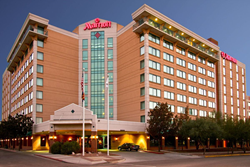 TUSCON, Ariz. (PRWEB) February 17, 2018
Tucson University Park Hotel announced today that it has entered into another 20-year franchise agreement with Marriott International, effective March 1. The hotel concluded its original 20-year franchise contract with Marriott earlier this year and was briefly converted to the Tucson University Park Hotel. Having signed a new agreement, the hotel will continue to serve the Tucson community and will once again be able to offer the benefits of the Marriott brand including Marriott Rewards.
"We are excited to be working with Marriott International once again as they have proven to be a trusted and valuable partner over the past two decades," said Mark VanBuren, the hotel's general manager.
The hotel has been highly successful since its opening, thanks to its location and consistently high quality of service, facilities and amenities. With 250 rooms and a university-adjacent location near prime retail, restaurants and businesses, it is the acknowledged market leader in Tucson. Managed by Atrium Hospitality, the hotel maintains the on-site leadership team that has successfully operated the property for the past five years.
Guests can stay abreast of the Marriott conversion by connecting with the hotel on Facebook and Instagram or checking the website at http://www.tucsonuniversityhotel.com/.
About Atrium Hospitality:
Atrium Hospitality is a leading hotel and asset management company headquartered in Alpharetta, GA. The company oversees a portfolio of 49 hotels in 26 states, licensed primarily through the Marriott, Hilton and Intercontinental brand families. For more information, visit http://www.atriumhospitality.com
About Tucson Marriott University Park Hotel:
Tucson Marriott University Park Hotel is adjacent to the University of Arizona in the heart of Tucson, making it an ideal choice for visitors to the area. The hotel's spacious, tastefully appointed guest rooms offer top-quality amenities and comfort for leisure and business travelers as well as group and social events. Hotel amenities include a full fitness center, an outdoor pool, and a selection of restaurants and bars. The hotel also features 10 versatile venues, 24,000 square feet of event space, and an on-site planning staff. Learn more about Tucson Marriott University Park by visiting http://www.tucsonuniversityhotel.com/ and stay connected on Facebook and Instagram.