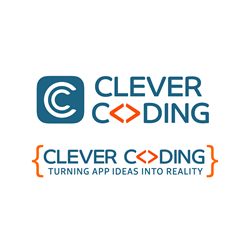 "Finding the right development partner is one of the biggest decisions you will make when it comes to the success of your project," said Steve Moon, Clever Coding Founder and CEO.
LEHI, Utah (PRWEB) February 16, 2018
With the age of the smartphone upon us, businesses increasingly turn to the web for a mobile presence that will help them stand out among the crowd. According to the latest comScore 2017 Cross Platform Future in Focus report, the average American adult spends approximately 2 hours, 51 minutes on their smartphone every day, which amounts to nearly 86 hours a month. These statistics should be seen as both a wake-up call and huge opportunity for businesses leaders to recognize survival depends on building a compelling mobile presence.
Based in Lehi, Utah, Clever Coding provides businesses with award-winning app design and development services. In fact, Clever Coding's founder, Steve Moon, created one of the first 2000 apps on Apple's App Store. With a finger on the pulse of how mobile software and hardware was developing, Steve turned his initial success at mobile app development into a thriving and growing business.
"Finding the right development partner is one of the biggest decisions you will make when it comes to the success of your project. The development partner you choose should have a proven track record of delivering a high-quality product on time and on budget. As a company, our number one goal is to do all we can to help your project be successful." - Steve Moon, Founder & CEO
As one of the nation's premier application and web development providers, Clever Coding has lent its considerable talent pool to creating successful mobile games, utility apps, web-apps, educational apps and so much more. They do so by providing conservative estimates and timeframes, employing qualified developers, frequent updates, open communication, and development transparency. They aim to be a long-term partner through frequent updates and product expansions.
Creating a compelling app that users will not only actively use, but enjoy, requires a specific skill set. Clever Coding offers services beyond simple app development. By combining proven design UX principles with top-notch customer service through the entire process, Clever Coding is more than just a simple app factory. They work with you to ensure you don't just receive a well-designed app, but also the support you need to make it successful.
By providing an honest accounting of what it will take to construct a successful app and delivering on agreed upon timeframes and benchmarks, Clever Coding provides peace of mind, the knowledge that the promised product will be delivered on-time and within budget. Having worked on successful marketing campaigns that have helped apps shoot to the top of the charts, Clever Coding makes promoting your app as seamless a process as possible. They provide prototypes for you to view before going live, and accommodate change requests wherever possible.
After rebranding and relaunching their business earlier this year, Clever Coding has seen strong growth built on the back of their proven design experience and solid business model. They expect to build on that strength in 2018 by expanding their product portfolio, building new partnerships, and providing one-of-a-kind, award-winning design businesses simply cannot find elsewhere.
For more information on how Clever Coding can help you design an app or enhance your web presence, visit their website at http://www.clevercoding.com. To speak with someone about potential synergies or to get started on planning your big app, call (801) 901-0231 or reach out to Melissa (at)clevercoding(dot)com.
About Clever Coding:
Clever Coding stands at the forefront of award-winning mobile and web app development and design. hey work with both Android and Apple operating systems. With a team of highly-experienced web and mobile app developers on the team, they have what it takes to turn an app idea into a well-executed reality. For more information, call (801) 901-0231.