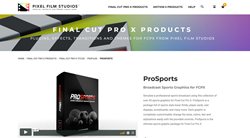 ALISO VIEJO, Calif. (PRWEB) February 15, 2018
Simulate a professional sports broadcast using this collection of over 45 sports graphics for Final Cut Pro X. ProSports is a package full of sports style lower thirds, player cards, stat displays, scoreboards, and many more. Each graphic is completely customizable; change the sizes, colors, text and stylizations easily with the provided controls. ProSports is the ultimate sports graphic package for Final Cut Pro X.
ProSports contains 15 totally unique and editable scoreboard presets. Baseball, basketball, American football, hockey and soccer themed scoreboards are among the available styles. Basic style scoreboards are also included and great for use in any sporting or game event. A variety of scoreboard accents like timeout tickers, game clocks, shots clocks, and basic graphic elements are available in certain preset styles.
Easily create statistics modularly by using ProSports' provided modular stat creation tools. To start, apply the board preset and edit the size and details to match any stylization. Then, apply a modular stat preset on top of the board. Offset the starting point of stats in the timeline to create awesome animations. The possibilities are endless with ProSports.
ProSports also includes a ton of additional graphics. Compare the stats of two players, display a starting lineup, add commentator boxes, and display a player profile. Plus, show off information like wins and losses, stadiums and arenas, and interesting player facts. ProSports is the perfect set of tools for any sports-related production.
Each ProSports graphic comes with a set of advanced controls that allow users the most possible control over their settings. Adjust the position, rotation, and scale using on-screen controls. Choose an animation, rotate graphics in 3D space, apply depth of field, adjust dimensions, change the colors, tweak reflections and more all within Final Cut Pro X.
Established in 2006, Aliso Viejo, California-based Pixel Film Studios is an innovative developer of visual effects tools for the post-production and broadcast community. Their products are integrated with popular non-linear editing and compositing products from Apple FCPX. Apple, the Apple logo, Mac OS X, and Macintosh are registered trademarks of Apple Inc. in the U.S. and/or other countries. All other trademarks and trade names are the property of their respective owners.