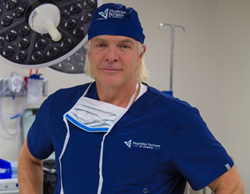 "Adding Saturday procedures will allow more people the opportunity to find relief with a world-renowned leader in minimally invasive spine surgery"
TAMPA, Fla. (PRWEB) February 26, 2018
Neck and back pain sufferers will soon gain easier access to a top minimally invasive spine surgeon as Physician Partners of America (PPOA) adds Saturday office hours for James St. Louis, D.O. He will perform laser-assisted, minimally invasive spine procedures on Saturdays beginning March 3 in PPOA's Tampa outpatient facility.
"Adding Saturday procedures will allow more people the opportunity to find relief with a world-renowned leader in minimally invasive spine surgery," said Tracie Lawson, PPOA president and COO. "It will provide convenience for patients whose schedules might not allow weekday appointments."
Since coming to PPOA in January 2018, Dr. St. Louis has performed more than 50 outpatient procedures, but has done thousands throughout his career, notably as the surgical founder of Laser Spine Institute.
Dr. St. Louis's minimally invasive spine surgery techniques are small-incision and muscle-sparing. Patients go home the same day and can get back to work in as soon as a few days, not the weeks required for traditional open-back surgery. He is able to treat many pain conditions including degenerative disc disease, spinal and foraminal stenosis, sciatica, bulging and herniated discs, failed back syndrome and spondylolisthesis.
Board certified in Orthopedic Surgery by the American Board of Physician Specialists, he is a member of many medical organizations including the American Osteopathic Association, American Osteopathic Academy of Orthopedics, American Medical Association and American Association of Physician Specialists.
Dr. St. Louis earned his medical degree from the University of Health Sciences Osteopathic Medical School in Kansas City, Mo. While serving in the United States Army, he completed a rotating internship at Eisenhower Medical Center in Fort Gordon, Ga., and completed orthopedic residencies at Fort Louis, Wash., and at Kennedy Medical Center in Cherry Hill, N.J.
He earned a Meritorious Service Award and Commendation Medal from the Army in 1994. He was appointed by former Florida Governor Charlie Crist to the Florida Board of Osteopathic Medicine, serving from 2008-2012.
Dr. St. Louis's office is located at 4728 N. Habana Ave., Suite 202, Tampa, FL 33614. PPOA's Habana Ambulatory Surgery Center is next door at 4726 N. Habana Ave. To schedule an appointment with Dr. St. Louis, patients may call (844) 510-PAIN.
About Physician Partners of America
Headquartered in Tampa, Fla., Physician Partners of America (PPOA) is a fast-growing national healthcare company that manages a wide range of medical practices. These include interventional pain management, laser-assisted minimally invasive spinal procedures, orthopedics, psychology, personal injury, Workers' Compensation, and AAAHC-accredited ambulatory surgery centers and procedure suites.
Its ancillary division includes imaging, medical supply distributorship, pharmacies, a COLA-accredited high-complexity quantitative toxicology lab and a COLA-accredited pharmacogenomics lab.
PPOA was founded in 2013 to strengthen the doctor-patient relationship and improving patient outcomes. It achieves this by acquiring medical practices and employing partner physicians so they can focus solely on the practice of medicine. PPOA and its affiliates share a common vision of ensuring the safety and well-being of patients, and providing alternative treatments in the national struggle against opioid abuse. For more information, visit http://www.physicianpartnersoa.com.