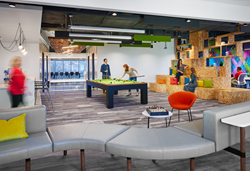 "After occupying the same space for nearly 10 years, NIKA tasked OTJ with the design of a new workplace that would support continued expansion, serve to attract new talent, and promote a vibrant corporate persona," explains Katherine Tong, OTJ Studio Director.
WASHINGTON (PRWEB) February 16, 2018
Leading interior architecture and design firm OTJ Architects has designed the new 17,000-square-foot headquarters of NIKA at 2000 Tower Oaks Blvd. in Rockville, MD. Located on the sixth floor of the Mid-Atlantic region's first LEED Platinum building, the office itself was designed to meet Platinum LEED Commercial Interiors standards. The workplace also incorporates WELL Building Standards and leverages principles of activity based working to promote flexibility and efficiency, enabling staff to set their own workday parameters.
Among the many intriguing elements in the design are sports-themed huddle rooms, workstation clusters, a lounge, pantry, two bars, stadium seating, and a game room, strategically interspersed throughout the floorplan to enhance NIKA's culture. Metal finishes juxtaposed against graffiti walls lend the space a decidedly urban flair. The design also emphasizes access to daylight for all staff by glazing office fronts and locating the pantry along the office perimeter.
"We aimed to create a space with a contemporary vibe that eschews corporate clichés," notes Katie Thames, lead project designer. "Aesthetically, NIKA's new home is a study in the contrast between clean, polished lines and industrial materials."
Adds Stephen Jayjock, Senior Project Manager, Cushman & Wakefield, "The OTJ design enabled us to complete the build-out on time and on budget, from pre-construction to close-out. Their team was exceptionally knowledgeable and responsive when working with my group and the contractors."
Designed to reach LEED Platinum certification, the new NIKA workplace features an array of sustainable solutions such as high recycled content furniture and reclaimed barn wood, low-flow plumbing fixtures, as well as daylight and occupancy sensor-controlled lighting systems that optimize energy efficiency.
About OTJ Architects
OTJ Architects is a premier interior architecture and design firm that creates award-winning projects nationwide from its offices in Washington, D.C. and New York, N.Y. For nearly 30 years, OTJ has partnered with leaders in the commercial real estate, corporate, government, and non-profit sectors to help organizations meet their human, operational and business objectives through the power of the built environment. Recent signature projects include workplaces for Accenture, Hyundai/Kia, Adobe, BMW, and United Way, as well as Innovation Centers for Booz Allen and Capital One. More information is available at http://www.otj.com.
###