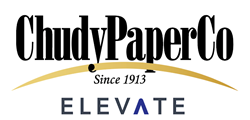 BUFFALO, N.Y. (PRWEB) March 07, 2018
Since 2015, Chudy Paper Co. has been providing its valued customers cost savings through the use of the ELEVATE program. ELEVATE has helped Chudy Paper Co.'s customers realize substantial savings and improvements to their supply chain operations.
"ELEVATE has brought supply chain optimization into the 21st century.
We're proud to be able to offer a revolutionary resource to our industry, and to provide our clients with quantifiable solutions across their supply chain."

Frank Michalski, Chudy Paper Co.
The ELEVATE process is unique in that it offers a free alternative to costly consultants. Customers who utilize ELEVATE receive detailed reports with a room-by-room analysis of every supply chain-related need for their businesses. After completing a brief questionnaire, customers will find a comprehensive breakdown of their workplace's universal basic needs along with the associated offerings provided by Chudy Paper. Through this process, Western New York businesses have streamlined their supply chain and procurement efficiencies, optimized their product usage and realized substantial savings.
"ELEVATE was able to identify our needs and objectives, and offered helpful reports that resulted in real world savings for our facility" – Franz Building Services
ELEVATE includes three phases: Discover, Evaluate and Explore.

Discover: Completion of a brief questionnaire allows ELEVATE to prioritize a customer's needs into five major categories: cost, image, productivity, health and hygiene, and sustainability.
Evaluate: An analysis of the customer's supply chain and procurement operations will be conducted. ELEVATE will provide a cost savings report directly related to the company's needs.
Explore: Customers take a simulated, virtual walkthrough of their facility. Here, they will discover products recommended for each aspect of their business, tailored around your business goals.
ELEVATE has become an essential tool for Western New York and Northern Pennsylvania businesses. Through ELEVATE, Chudy Paper Co. has helped customers in education, industrial, healthcare, and more sectors realize cost savings and optimized product solutions across their supply chains.
About Chudy Paper Co.:
Founded in 1913, Chudy Paper is the ideal choice in supply chain management, providing customized, innovative procurement solutions to help drive efficiencies in today's business climate. Chudy Paper Company is the distributor of choice in education, healthcare, and facility maintenance products, servicing Western New York and Northern Pennsylvania with the brands you know and the products you trust.