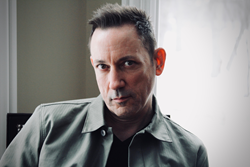 "Yamaha Drums are the sound on my best-selling records and the accompaniment to my biggest and proudest musical moments," notes Yamaha Artist Jimmy Chamberlin.
BUENA PARK, Calif. (PRWEB) February 16, 2018
Yamaha Drums announced today the signing of Jimmy Chamberlin of renowned alternative rock band Smashing Pumpkins to the roster of Yamaha Artists. Jimmy is also known for drumming with the alternative supergroup Zwan, his jazz fusion outfit titled Jimmy Chamberlin Complex and collaboration with Chicago jazz saxophonist Frank Catalano.
Jimmy's kit of choice is the Yamaha Absolute Hybrid Maple with Polar White finish, which perfectly blends his signature feel, sound and dynamics. This popular line of drums allows him to perform at all levels. From ghost notes to thunderous hits, Jimmy can express every emotion with each stroke. His snares of choice include the Yamaha 14" x 6.5" Recording Custom Aluminum (RAS1465) snare as well as the 14'' x 6'' Absolute Hybrid Maple snare drum (AMS1460).
Taking up drumming at the age of nine, Jimmy rapidly progressed through lessons under future Yanni drummer Charles Adams, giving him a firm knowledge of the fundamentals. During his teen years, he went on to study under several other teachers, learning Latin, Brazilian and big band techniques. Chamberlin cites jazz musicians Benny Goodman, Duke Ellington, Gene Krupa and Buddy Rich, as well as rock drummers Keith Moon, Ian Paice and John Bonham as major influences, shaping the style he brings to Smashing Pumpkins.
Following 1991's "Gish," Smashing Pumpkins broke into the mainstream market in 1993 with their second album, "Siamese Dream." Through extensive touring and their 1995 follow-up, the double album "Mellon Collie and the Infinite Sadness," the group built a large, dedicated fan base and signature style that continues to reach the masses today.
"Yamaha Drums are the sound on my best-selling records and the accompaniment to my biggest and proudest musical moments," notes Chamberlin. "The versatility of these drums continues to be unmatched by any other brand. These days, the scope of the music that I play is such that I need an instrument that can take me from a small jazz club to an arena to a festival, and Yamaha provides me with that flexibility. I couldn't be happier to be back!"
Jimmy will be joining Smashing Pumpkins on their upcoming Shiny And Oh So Bright tour in July 2018.
For more information on the Yamaha Artist roster, visit http://www.yamaha.com/artists/
-END-
About Yamaha
Yamaha Corporation of America (YCA) is one of the largest subsidiaries of Yamaha Corporation, Japan and offers a full line of award-winning musical instruments, sound reinforcement, commercial installation and home entertainment products to the U.S. market. Products include: Yamaha acoustic, digital and hybrid pianos, portable keyboards, guitars, acoustic and electronic drums, band and orchestral instruments, marching percussion products, synthesizers, professional digital and analog audio equipment, Steinberg recording products and NEXO commercial audio products, as well as AV receivers, amplifiers, MusicCast wireless multiroom audio systems, Blu-ray/CD players, earphones, headphones, home-theater-in-a-box systems, sound bars and its exclusive line of Digital Sound Projectors. YCA markets innovative, finely crafted technology and entertainment products and musical instruments targeted to the hobbyist, education, worship, music, professional audio installation and consumer markets.