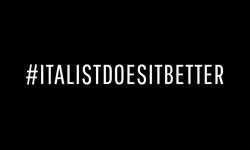 It's like shopping in the streets of Italy, only simpler and easier via an accessible, online site that virtually organizes an efficient, seamless experience.
LOS ANGELES (PRWEB) February 23, 2018
italist is the world's first online marketplace fully dedicated to Italian luxury multi-brand retailers, selling products to clients in more than 180 countries with revenue having drastically increased 60 times in the past three years. Moreover, the total number of unique products offered on italist's platform is now over 100,000, culminating with the 2018 S/S collections. This extensive array of high-quality products is due to the company's close partnership with more than 150 luxury boutique stores throughout Italy.
―― So, What Makes italist So Unique?
Well, every fashion product that one sees on italist's platform, be it from Fendi, Gucci, Dior or from any other leading fashion brand, is currently on display in the storefronts of our partner luxury boutiques throughout all of Italy. When making a purchase through italist, one is, in fact, buying directly from the local Italian fashion boutiques who have been collectively selling fashion products in Italy for decades! One will not only discover limited edition items and fashion products from the latest, hard-to-find collections, but will also enjoy prices that are up to 25% less than average retail prices!
―― Shop in Italy by Visiting italist.com!
Italian luxury fashion boutiques are simply one of a kind. One can find every luxury fashion brand imaginable, and perhaps even some of the unimaginable. The platform offers a large selection of fashion items from leading French, Italian and international fashion brands and designers as well as their exclusive capsule collections that are available only in a select few Italian boutiques. And just when one believes it cannot get any better than that – the prices are often lower than comparable storefront retailers.
Now remember, making a purchase in an Italian storefront retail shop commands a 22% value-added tax (VAT).
One may ask: "Can't we get our VAT reimbursed as tourists?" Well, yes, that is possible…if one does not mind standing in long airport customs lines with cumbersome documentation in hand all to receive a simple stamp. To make things worse, some have reported that although they carefully followed all of the VAT reimbursement procedures, the VAT refund just doesn't work out – how frustrating! This is not to mention that upon arriving home, the item(s) purchased actually does not fit as well as one thought…worse yet, perhaps one's preferences have changed as well. For a lot of people, the headache is just not worth the precious time, effort and sometimes extra dollars being risked.
―― Why italist is Better?
Our platform is customized and maintained to the highest of standards. With today's rapidly changing and fast-paced world, italist is constantly mindful of the importance of saving time and money. Imagine being able to directly browse through and shop among a wide variety of Italian boutiques' inventory listings of over 800 luxury fashion brands, atop 100,000 products. It's like shopping in the streets of Italy, only simpler and easier via an accessible, online site that virtually organizes an efficient, seamless experience.
italist will continue to invest in the growth of its global business and will work to further improve its service to bring ever greater joy to its growing number of shoppers around the world!
** Official Social Media Account
Instagram / Twitter / Facebook
** About italist.inc
CEO: Diego Abba
Established: November 5, 2014
URL: https://www.italist.com/