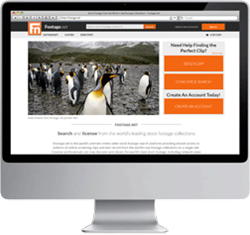 The FOCAL International Awards are a gift to the footage community, and we're thrilled to support the event in any way we can.
NEW YORK (PRWEB) February 16, 2018
Footage.net, the stock, archival and news footage search engine, has signed on as a Bronze Sponsor of the 2018 FOCAL International Awards. Now in its 15th year, the FOCAL International Awards celebrate the best use of archive and stock footage in all variety of production genres, across all media platforms. The awards also recognize the researchers, technicians and producers that access, maintain and use this precious resource with Awards for best archive researcher, library and restoration work. All awards will be presented the night of June 14, 2018 at an elegant black-tie gala at the Troxy, London.
"We are delighted that Footage.net has agreed to sponsor the FOCAL International Awards again this year, which highlights the strong partnership between both companies," said Mary Egan, co-executive director of FOCAL International.
Since their inception in 2004, the FOCAL Awards have highlighted the critical role of archival footage in the production of world-class films, and brought together stakeholders from around the world for an evening of recognition, celebration and fun.
"The FOCAL International Awards are a gift to the footage community, and we're thrilled to support the event in any way we can," said David Seevers, Footage.net Chief Marketing Officer. "The footage industry has come along way in the last 15 years, and the team at FOCAL have worked extremely hard to produce an annual event that celebrates this evolution. We are honored to be involved."
Awards will be presented across 16 production, restoration/preservation and personnel categories on the evening of June 14, 2018 at a glittering award ceremony at the Troxy, a Grade II-listed Art Deco venue in London that has been converted for modern use, and hosts music concerts, cinema events, award ceremonies, conferences and film screenings.
About Footage.net
Footage.net is the world's premier online resource for stock footage research and screening. Since 1994, Footage.net has focused on meeting the needs of both footage users and footage providers. Today, Footage.net remains committed to helping users find the best footage as quickly and easily as possible; generating new leads and licensing opportunities for our member archives; and strengthening the footage licensing industry as a whole. Our dedicated footage search engine makes it easy for creative professionals to search multiple world-class footage collections simultaneously and view over 3.5 million clips, many of which are available for download. Our Global Search partners include some of the best-known companies in the stock footage industry, including ABCNEWS VideoSource, AP Archive, Bridgeman Images, Getty Images, Global ImageWorks, FootageBank, Framepool, Historic Films, INA, NBCUniversal Archives, Producers Library, Reelin' in the Years Productions and WPA Film Library, as well as some exciting specialist collections, such as NatureFootage, CriticalPast and Celebrity Footage. Footage.net is also home to the Zap Email, used every day by creative professionals to send footage requests instantly to over 50 top footage providers.
About FOCAL International
The Federation of Commercial Audiovisual Libraries International (FOCAL International) is a professional not-for-profit trade association formed in 1985. It is fully established as one of the leading voices in the industry, with a membership of over 300 international companies and individuals. Its purpose is to facilitate the use of library footage, images, stills and audio in all forms of media production; promote its members - libraries selling content plus those who serve the industry; provide a platform for members to promote themselves and their interests; encourage good practice in the research, licensing, copyright clearance and use of footage; support, promote and educate on the need to preserve and restore footage and content; act as an information resource for the footage and content industry; offer training in key skills and in the broader appreciation of the footage and content industry.