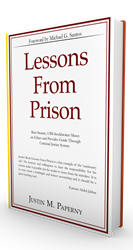 CALABASAS, Calif. (PRWEB) February 21, 2018
Many defendants who have been found guilty of white-collar crimes and sentenced to significant federal prison time find themselves so emotionally devastated from the plea and sentencing that they feel helpless as defendants and again as prisoners in the federal prison system.
Justin Paperny was one of those people. Having plead guilty to not stopping securities fraud by a client, he was sentenced to 18 months in federal prison. He went through those same feelings as described above, devastated not only by his own poor choices that led him to federal prison, but also by how punitive the justice system can be to defendants who do not know how to navigate the system properly.
In federal prison, Justin resolved to help others navigate the criminal justice system better than he did. He knew he was not able to change his bad past decisions, but at least he could teach others who were heading down the same road. Sharing his story and educating others were measurable steps he could take to properly demonstrate his remorse and the lessons he learned.
His book, Lessons from Prison, is not only his mea culpa for his past deeds but also his resolve to correct that past. In so doing, he hopes to show others who find themselves in that same position how they can do the same. It is a brutally honest tale that describes, in detail, how he made the wrong decisions in his job as a stockbroker for Bear Stearns and UBS. But it also works through how the government prosecutes its cases, the consequences of living in denial, the importance of finding perspective and advice on how to manage the trauma that accompanies a white collar crime investigation.
Lessons From Prison also describes the reality of prison life, and teaches how any white collar defendant can properly navigate the maze that is the criminal justice system. It shows defendants and prisoners the power of introspection, accountability and self-reliance.
Justin's choices in federal prison helped him prepare for his successful release. He currently runs White Collar Advice and Prison Professors as a federal prison consultant. He also works as an ethics speaker. His clients include The FBI Academy, Wells Fargo, New York University, KPMG and the University of Southern California.
Lessons from Prison is a 242 page blueprint for others eager to succeed through the federal prison system. Justin gives away his book for free to defendants in need. The only investment required is time and a desire to emerge from the criminal justice system successfully.
To grab a free copy of Lessons From Prison visit WhiteCollarAdvice.com or text LIBERTY to 44222.