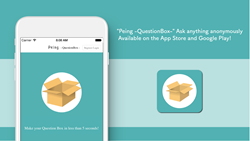 (PRWEB) February 19, 2018
Jiraffe Inc. (Tokyo; Founder and CEO: Teruaki Aso) has announced the release of a popular service "Peing -QuestionBox-" (Peing [péɪŋ] for short) for iOS and Android after surpassing over a million users in Japan. It is available on the App Store and Google Play around 155 countries.
Peing was first released in November 2017, and rapidly growing in a pace of 200 million page views a month.
This viral service is to expand its popularity around the world, and now supports English and Chinese in addition to its original language, Japanese.
Previously, users couldn't get notifications for the newly received questions except through email. With the release of the app, users can now receive notifications on their phones when there is a new question, which makes it easier than ever for users to answer the questions right away.
You can download the app from HERE:
App Store:
https://itunes.apple.com/us/app/peing-questionbox/id1337526957?mt=8
Google Play:
https://play.google.com/store/apps/details?id=net.peing.app
-About the service-
In "Peing -QuestionBox-", anyone can personally ask questions anonymously, and the users who received the questions can answer them on Twitter (a social networking service).
You can use this service right after you connect it to your Twitter account, and there are no complex registration procedures to go through. No emails, no phone numbers.
To answer anonymous questions:

To start receiving questions, first, create your Question Box account
After creating your Question Box, users will start sending questions anonymously
You DO NOT have to answer every question, so you can choose questions you want to answer
The question you chose to answer and your answer will be tweeted on your feed
How to ask questions anonymously:

If you are only sending questions, you do not need to create an account on Question Box
Choose who you want to send your question, and just ask them anything
-[Company Information] Jiraffe Inc.-
CEO - Teruaki Aso
Date of Establishment - October, 2014
Address - Honcho 1-23-9 NiD Building 3F, Nakano-ku, Tokyo, Japan
Our Services:
"Hikakaku!", "Saiyasu-syuuri.com", "Smama", "Peing -QuestionBox-" ( URL: https://peing.net/en )