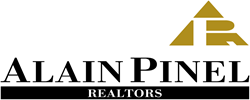 The insight and education they offer are invaluable to furthering our brand
SARATOGA, Calif. (PRWEB) February 16, 2018
Alain Pinel Realtors' Vice President of Training Dr. Bard Williams and Vice President of Relocation and Business Development Michi Olson spoke at the Leading Real Estate Companies of the World® (LeadingRE) Annual Conference held at Wynn Las Vegas from Jan. 31 to Feb. 2. The conference was a part of LeadingRE Conference Week, a series of educational and networking events that attracted an elite audience of nearly 3,000 real estate professionals from 24 counties.
The conference was open only to brokers, managers and relocation professionals affiliated with LeadingRE, an invitation-only network of the highest quality independent real estate companies. Attendees explored how to leverage the trends driving the real estate market, including the economic landscape, home technology and design, and consumer preferences.
Williams presented information on how learning can grow a brokerage, sharing insights on how investing in learning activities can help build real estate business while supporting recruiting and retention. Olson spoke on the importance of embracing diversity in relocation, and how fostering these diverse relationships is key to creating both successful transactions and a unified working environment.
"Michi has proven herself as a foremost authority on all matters of corporate relocation, as well as in her ability to lead new business initiatives," said APR President Mike Hulme. "Bard has successfully overseen all aspects of our technical and sales training, and he continues to guide APR's strategic vision for our career development programs. The insight and education they are able to offer at prestigious events like this one are invaluable to furthering our brand and supporting other real estate professionals."
Williams and Olson were among a notable line-up of speakers, which included keynote speakers such as two-time World Series Champion, former Chicago Cubs player and first runner-up on ABC's Dancing with the Stars David Ross; award-winning journalist and noted host of On Second Thought for Georgia Public Broadcasting Celeste Headlee; renowned real estate speaker and author Darryl Davis and LeadingRE Chief Economist Dr. Marci Rossell. Additional thought leaders from across the industry were on hand to address a variety of timely topics, with a focus on ways to best meet the needs of today's home buyers and sellers.
 
"One of the things that sets our conference apart is the generous spirit of collaboration among our members," said Pam O'Connor, president and CEO of LeadingRE. "The speakers who share their professional strategies and insights to support the success of fellow members help ensure our sessions are timely and impactful, as we respond to market trends and strive to offer the very best service to consumers around the world."
About Alain Pinel Realtors®
Alain Pinel Realtors (APR) is the largest privately owned residential real estate company in Northern California and is consistently ranked among the top 10 largest residential real estate firms in the United States based on closed-sales volume. The firm has 1,400 agents in more than 30 offices throughout Northern California. APR was founded in 1990 by Chairman and CEO Paul L. Hulme, and is based in Saratoga, Calif. Visit us at apr.com, china.apr.com, facebook.com/AlainPinelRealtors, and @AlainPinel.