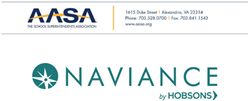 Nashville, Tenn. (PRWEB) February 16, 2018
Hobsons, the education technology leader and company behind Naviance, and AASA, The School Superintendents Association, today announced the Redefining Ready! National Scholarship 2018. The scholarship competition, launched at the AASA National Conference on Education, allows students to tell the world why they are college, career, and life ready through a 30-second social media video. Fifteen students will win scholarships ranging in value from $1,000 to $10,000.
"We are pleased to partner with Hobsons for the second year to help students demonstrate their college readiness and give them a good start on their postsecondary education," said Daniel A. Domenech, executive director, AASA. "In the digital world we live in, it is only fitting that students who are interested in participating in the competition will be asked to do so through a social media platform. We are also pleased to have announced this initiative at our National Conference on Education, an annual gathering that convenes hundreds of superintendents—our nation's premier thought leaders in public education."
The scholarship is part of a national initiative to develop new indicators of college and career readiness that go beyond standardized test scores. Launched in 2015 at the AASA's national conference, Redefining Ready! introduced new research-based metrics to more appropriately assess whether students are prepared for success in college, career, and life. The campaign—led by school superintendents—has put forth new metrics to define a student's ability to succeed beyond high school. Those metrics include participation in Advanced Placement courses, completion of Algebra II, early college credits, industry credentials, attendance, and community service.
"Respected research and our own experience with students have taught us that test scores, while informative, tell only part of a student's story," said Kate Cassino, CEO of Hobsons. "We're happy to join with AASA in encouraging students to show us a broader range of their capabilities and demonstrate how they will succeed beyond high school. We hope these scholarships will help launch them toward achieving their goals."
The Redefining Ready! National Scholarship Contest is open to high school seniors. To apply, students must upload a 30-second video to Twitter and complete an official application. One national winner will be named along with seven regional winners and seven regional runners-up. The contest, which opens today, runs through April 2; winners will be announced in late spring.
Application details and deadlines are available by visiting the AASA website.
For more information about the 2018 National Conference on Education, access AASA's Conference Daily Online.
About Hobsons
The leader in education technology, Hobsons helps students to identify their strengths, explore careers, match to best-fit educational opportunities, create academic plans, and reach their education and life goals. Thousands of K-12 and higher education institutions partner with Hobsons and leverage our expertise and our solutions -- Naviance, Intersect, and Starfish -- to improve college and career readiness, college recruiting and admissions, and higher education student success to support millions of students around the world. For more information, visit hobsons.com.
About AASA
AASA, The School Superintendents Association, founded in 1865, is the professional organization for more than 13,000 educational leaders in the United States and throughout the world. AASA's mission is to support and develop effective school system leaders who are dedicated to the highest quality public education for all children. For more information, visit http://www.aasa.org.