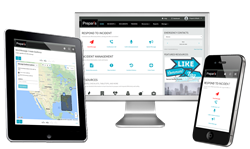 "We offer a solution that can help companies save up to 30% on their current business continuity spend while also providing additional functionality, all within a single application."
ATLANTA (PRWEB) February 20, 2018
One of the top activity tracker companies, known for their wearable trackers that measure individual fitness data, is now live with Preparis' solution for business continuity and incident management.
The Preparis Portal, an all-in-one solution that combines emergency notification, incident management, training, document storage, reporting, and expert guidance, enables users to easily manage their entire business continuity program. For more information on the Preparis Portal, visit http://www.preparis.com/preparis-portal/.
Preparis' new customer felt pressure to find a solution that could help them stay prepared for any type of threat while also staying within their budget.
"We offer a solution that can help companies save up to 30% on their current business continuity spend while also providing additional functionality, all within a single application," said Wade Tucker, Chief Sales Officer at Preparis.
Included in the Preparis Portal software application is a resources section which contains tabletop exercises, threat specific checklists, webinars, training modules, and more.
"With everything seamlessly integrated into one solution, companies can rest easy knowing they will be prepared to handle any type of incident, and can do so stress free should an incident occur," concluded Tucker.
Almost every business is required by OSHA to have some sort of Emergency Action Plan (EAP) of Business Continuity Plan (BCP) in place. Should an incident occur, these types of plans could ensure employee safety as well as continuity of operations following the incident.
For more information on Preparis and their business continuity software and services offerings, visit http://www.preparis.com.
###
About Preparis
Preparis is an all-in-one business continuity and emergency notification solution that helps businesses protect their people, operations and brand while meeting regulatory requirements. The company's unique combination of technology and services makes creating and maintaining business continuity programs easy. For more information about Preparis, please visit http://www.preparis.com or call (855) 447-3750.