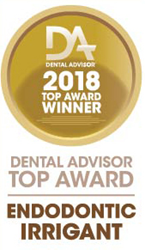 South Hackensack, NJ (PRWEB) February 21, 2018
Irritrol has been award as one of the Top 2018 Dental Products by The Dental Advisor™. Irritrol eliminates the need for separate step irrigation of EDTA and CHX irrigation. Independent testing showed that Irritrol had a disinfection rate of 99.99%. Years of clinical use have provided dentists with removal of the dentinal smear layer, effective disinfecting, and keeping the dentin more intact than EDTA alone as it causing less demineralization of the dentin. The green color of Irritrol helps dentist identify and differentiate from other irrigants.
One of the dental advisor consultants stated that "During irrigation with Irritrol, an amazing amount of debris us eliminated from the canal. I could see it bubble out and no waiting period to work"
To learn more about Essential Dental Systems' Irritrol and view the EDS limited time offer visit http://www.edsdental.com.