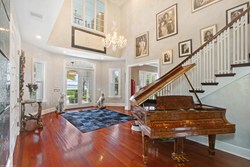 BEVERLY, Mass. (PRWEB) February 18, 2018
Kaminski Auctions February 3rd and 4th two-day auction of Hilary Musser Interiors LLC, of Palm Beach, Florida collection achieved excellent prices across all collecting genres. The sale featured decorative furnishings from Ms. Musser's personal collection and European and Early American antiques from her former antique shop, "Federal Antiques" at 20 Federal Street in Nantucket, MA.
Fine art entries saw a Maynard Dixon (1875-1946), landscape, oil on board sell for $8,500, while a portrait of a lady in a white dress, oil on canvas by the Russian painter Ilya Repin sold for $7500.
A watercolor painting of two nudes signed Rodin with the provenance stamp of the Dominion Gallery Montreal and the Darius Tale Yar Khan Gallery London, was finally hammered down for $6,000. While a Leon Bakst (Russian, 1866-1924), watercolor painting of a costume design sold for $5,000.
Furniture in the auction brought excellent results as well. The top- selling lot was an Italian hand-painted terracotta dining table on a wrought iron base measuring 92 inches long that was originally custom-made in Italy. It sold to the audience for $6,000. A pair of Victorian walnut twin beds with inlay and matching nightstands sold for $3,500 to an Internet bidder, while a late 19th-century Sheraton-style Bigelow-Kennard grandfather clock in a mahogany case, with lion-form feet and Westminster chimes sold for $3,500.
Italian marble sculptures continue to do well at the Kaminski sales. An 18th/19th-century Italian marble sculpture of a skull wearing Roman robes was finally hammered down for $3,500 with spirited bidding from the audience and Internet bidders. The second sculpture, a 19th- century Italian marble sculpture of Caracalla the Roman emperor from AD198 to 217, a member of the Severan Dynasty sold for $2,500.
Venini glass continues to bring strong prices at Kaminski as well, with a Carlo Scarpa "Murrine Romane" vase measuring 5 inches high selling for $2,700.
Most of the top lots of the sale made their way across the block on day two with an exceptional Steinway grand piano as the focal point of the collection. The Steinway was advertised heavily in Europe and the United States. Internet buyers and phone bidders from across the globe registered to bid. The rare piano was finely inlaid with cupids, floral decoration, and musical instruments and executed in exotic woods. Built by the Steinway Company in 1922, the piano was originally purchased from Maximilian's House of Grand Pianos and is fitted with a CD player. Strong competition for the rare piece drove the price to $41,000 plus twenty percent buyer's premium.
A pair of small, early 20th century Gorham sterling shellfish trays caught the attention of Gorham and fine silver collectors. The dishes came into Kaminski Auctions gallery black with tarnish. A thorough polishing revealed their exquisite detail of shells and intricate coral decoration. The pair were hallmarked and numbered 735 with approximately 12.2 troy oz TW of silver. Measuring one inch high by six inches in diameter they were finally hammered down for $6,000.
A stunning pair of 19th century cast lead dogs on marble bases that resembled golden retrievers purchased originally from Wayne Pratt Antiques sold for $5,000 to the phones.
Ms. Musser was an avid collector of Majolica and at one time owned one of the finest collections in the world. Included in the sale was an antique French majolica tree trunk pedestal with trailing ivy and a white cockatoo perched on the side. It measured 43 inches high by 20 inches wide. Originally purchased from the Au Fond de la Cour Gallery, Paris, it sold for $4750. A 19th C. Majolica tiered revolving oyster server with figural fish and serpent finial, sold for $3,000.
Her collection of ceramics included a 19th-century scroddleware figural steer that serves as a wine cask. It was purchased from the Kentshire Galleries and sold at Kaminski for $4,000. An important pair of Delphin Massier polychrome faience pottery vases with figural butterfly handles, also purchased from the Au Fond de la Cour Gallery, Paris sold for $3250. The vases were and pictured in 'Massier, L'Introduction de la Ceramique Artistique Sur La Cote d'Azur'catalog and the catalog accompanied the lot.
Two steamer trunks brought strong prices with a Louis Vuitton trunk, circa 1870s/80s, #20741, owned by W. B. Housley, Bute Court Hotel, Belgrave Blvd, Torquay, U.K. and a Goyard steamer trunk marked "Malles Maroquinerie," both selling for $3250 each.
An exceptional silverplate and antler flatware service for twelve with an assembled collection of additional serving pieces sold for $3,000.
Kaminski Auctions is pleased to announce its next auction will be a two-day sale Saturday and Sunday, March 3 & 4, 2016. Day one will feature an outstanding collection of paintings, furniture, and jewelry from the estate of Dr. Carl Katz of Cinncinati, Ohio, while Day two features a collection of designer rugs from various Palm Beach, Florida estates. All rug lots are sold unreserved. There is a huge selection of rugs including famous names like Stark, palace size oriental rugs including Oushaks, Kerman's, Tabriz's, Serapis, Sultanabad's, Portuguese needlepoints, fine custom Aubussons and much more. Preview days for this auction are Monday–Friday, February 26-March 2, 2018, 10:00 AM- 5:00 PM and day of sale beginning at 8:00 AM at the Kaminski Auctions gallery, 117 Elliott Street, Rt. 62, Beverly, Massachusetts. Preview is open while auction is live. For more information go to http://www.kaminskiauctions.com and sign up to bid with KaminskiLIVE.