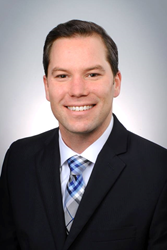 I will treat all of your real estate needs with the same care, thoroughness and attention to detail as I do my own. I will bring a positive, can-do, dedicated attitude to every situation and will strive to make your real estate experience the most positive one possible
INDIANAPOLIS (PRWEB) February 16, 2018
Five Star Professional is pleased to announce Adam Catron, F.C. Tucker Company, has been chosen as one of Indianapolis's Rising Star Real Estate Agents for 2017.
Five Star Professional partnered with the Indianapolis Star to recognize a select group of Indianapolis-area real estate professionals who, in only a short period of time as agents, have performed at a high level with strong client satisfaction. Adam Catron, along with other award winners, is featured in a special section of the October 12th issue.
"I will treat all of your real estate needs with the same care, thoroughness and attention to detail as I do my own. I will bring a positive, can-do, dedicated attitude to every situation and will strive to make your real estate experience the most positive one possible," says Adam Catron of F.C. Tucker Company.
As part of the Rising Star Real Estate Agent award program, agents are measured using an objective, in-depth research methodology with significant focus on customer feedback, sales volume and overall satisfaction.
"Rising Star Real Estate Agent award winners are agents to watch. Based on their impressive sales volume, transactions and client service they show tremendous potential to excel in the profession for years to come." – Jonathan Wesser, VP of Operations, Five Star Professional.
See Adam Catron's Five Star Professional online profile here!
"I am a licensed Realtor with the F.C. Tucker Company who specializes in the selling and marketing of new and existing residential real estate. My business is built on providing the best service possible before, during and after the sale of your home," says Adam.
Now entering its 16th year, Five Star Professional conducts market-specific research in more than 45 markets across North America to identify premium service professionals.
Five Star Professional contacts recent homebuyers and seasoned real estate professionals to identify Rising Star award candidates who are strong performers, provide superior customer service and embody professional excellence. Candidates are also evaluated on objective criteria such as experience, production levels and disciplinary and complaint history.
Real estate agents do not pay a fee to be considered or awarded. For more information, visit http://www.fivestarprofessional.com.