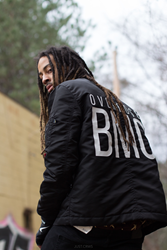 "Creating music is a very personal experience for me, I don't write anything down. I just connect and speak from the heart my truths rather good or bad,' Brandon Moseley affirms. "I just started trying to find a creative way to express myself where it would touch the heart."
ATLANTA, GA (PRWEB) February 18, 2018
The internet's latest viral sensation, the Invisible Box Challenge, has created such a craze that it has led to features on the Insider Edition and Good Morning America. Unknowingly on the verge of social media gold and prior to news coverage, one of the first sightings of the air step appeared in a dance video by Ghetto Spiderman participating in Overdose BMO's OT Challenge featuring his single "OT ft. Overdose Laz".
Garnering viewers and participates every day, Overdose BMO has transcended his OT dance challenge into viral success. With over 100k plays on Spotify, he is solidifying his place as one of the most influential viral music sensations.
Born Brandon Moseley and raised in Decatur, Alabama, BMO faced hardships that almost derailed him from his musical success. Deciding to take his craft more seriously, he moved to Atlanta, where he began to cultivate his unique sound, intertwining the raw and truthfulness of his past in his music.
Citing influences of soulful R&B tones accompanied by the authenticity and creativity of hip-hop, BMO has created an unparalleled sound that compliments his natural ability to use his voice as an instrument while effortlessly freestyling.
Now on the high of his viral hit, BMO has recently released the music video for "OT" featuring YouTube personality Overdose Laz, produced by Blasian Beats who credits include Lil Wayne, Rich the Kid, Famous Dex, & Rick Ross.
With an intrinsic motivation to go hard with everything he does, Overdose BMO is on track to becoming this generation's next iconic hip-hop superstar.
Follow Overdose BMO on all social media platforms at: @overdosebmo
For more information, please contact Adrienne Reeves at (678) 592-2586 or email overdosebmo(at)gmail(dot)com