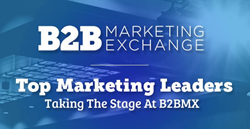 I'm excited to share CenturyLink's experience and successes using conversational AI and how attendees can use Conversica's AI-powered conversations to contact, engage and qualify leads.
FOSTER CITY, CA (PRWEB) February 19, 2018
Conversica, the leader in conversational AI for business, today announced that Kate Cindric Federhar, manager of marketing operations at CenturyLink, will be presenting at the B2B Marketing Exchange conference taking place this week in Scottsdale.
Federhar, a recent DemandGen B2B Innovator Award recipient, says that CenturyLink is using true conversational AI today to engage leads at scale and improve the sales funnel. At the conference, she will explain how conversational AI has enhanced her ability to help fill the top of the sales team's funnel and why she decided to deploy her AI-powered Sales Assistant, "Angie," which uses human-like two-way conversations to automatically engage and qualify leads, freeing up sales reps to close more business.
In the conference case study session, she'll demonstrate how Angie has improved ROI by increasing follow-up capacity and enabling CenturyLink to reach out to more prospects overall, including new audience segments. Her session, "It's true - AI really talks with my prospects and turns them into pipeline opportunities," will address:

How conversational AI is being applied today to boost lead engagement and conversion
How to integrate conversational AI with a marketing automation platform for best results
Best practices for boosting lead conversion rates, with or without automation
"I'm excited to share CenturyLink's experience and successes using conversational AI and how attendees can use Conversica's AI-powered conversations to contact, engage and qualify leads," said Federhar.
"I am thrilled to have our successful customer CenturyLink presenting their use of Conversica at the B2B Marketing Exchange," said Carl Landers, Conversica CMO. "Like many of our customers, CenturyLink has increased the conversion of leads into sales opportunities by deploying our AI sales assistant to ensure prompt, personal and persistent follow-up on every single lead. Having seen Kate speak, I know conference attendees will enjoy hearing from her how the simple application of AI to their conversion process could increase the number of qualified leads they pass to their sales teams."
Conversica at the Conference
In addition to attending the case study session, B2B Marketing Exchange attendees are invited to visit Conversica's booth to see conversational AI at work engaging, qualifying and following up with sales leads in real time and learn:
How to boost the return on lead generation efforts by following up with every single lead in a prompt, persistent and personable way
How to delight Sales by automatically converting more leads into qualified opportunities
How to determine in real time which lead sources are producing the most engaged leads
Those not attending the conference can get more information on Conversica at http://www.conversica.com or attend a live online demo at con.ai/fridaydemos.
About the B2B Marketing Exchange Conference
The B2B Marketing Exchange conference is a must-attend event for marketers managing the complex sales cycles and group buying realities common in B2B industries. It addresses the topics that matter most to B2B: account strategies, messaging frameworks, demand acceleration and sales enablement. Attendees walk away with actionable insights they can apply to their business to drive engagement and revenue.
About Conversica
Conversica is the leader in AI-powered business conversations and the only provider of AI-driven lead engagement software for marketing and sales organizations. The flagship Conversica® AI Sales Assistant helps companies find and secure customers more quickly and efficiently by automatically contacting, engaging, qualifying and following up with leads via natural, two-way conversations. Used by more than 1,000 companies worldwide, Conversica's sales assistants are built on a proven AI platform integrating natural language processing (NLP), natural language generation (NLG), and machine learning (ML) capabilities and engage prospects over multiple communication channels and in multiple languages. Recognized by Gartner as a Cool Vendor, Conversica is a portfolio company of Providence Equity, Kennet Partners and Toba Capital and is headquartered in Foster City, Calif.
To learn more, visit conversica.com and follow the company on Twitter, LinkedIn and Facebook.