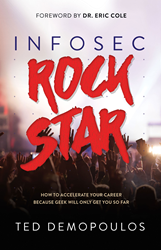 Geek Will Only Get You So Far
NEW YORK (PRWEB) February 19, 2018
Morgan James' new release, "Infosec Rock Star: How to Accelerate Your Career Because Geek Will Only Get You So Far" by Ted Demopoulos, gives readers the skills they need to stand out from the crowd and reach "rock star" level success. It is targeted toward people with careers in information security, though it contains principles that can apply to any career.
"Infosec Rock Star" is for those who have not yet achieved the level of success that they desire in information security, and want to take their careers to the next level. Many people who are working in this field have the technical skills required to succeed, yet still see others enjoy much more success than they do. This is because those who truly become "rock stars" in this profession have a much more extensive skill set. These crucial skills can be easily learned in "Infosec Rock Star."
Rising above the others in the Infosec field requires many skills that are not typically learned in an information security degree. These skills include communication, business understanding, leadership, time management, and many more. Because most people never fully develop these skills, acquiring them can bring incredible benefits. "Infosec Rock Star" can help any information security professional gain an understanding of these skills, and make their own success.
If you would like more information about this topic, or to schedule an interview with Ted Demopoulos, please call Nickcole Watkins at 516.900.5674.
About the Author:
Ted Demopoulos has over 25 years of Business and Information Technology experience. For the past 15 years, he has been an independent consultant for organizations such as Cisco, The Singapore Ministry of Education, Hewlett-Packard, The SANS Institute, The UK Post Office, IBM, and Motorola. He founded Demopoulos Associates in 1990, which allowed him to work on projects around the world. His technological experience has helped new companies, large corporations, and even individuals working in the information technology field.
More About This Title:
"Infosec Rock Star: How to Accelerate Your Career Because Geek Will Only Get You So Far" by Ted Demopoulos will be released by Morgan James Publishing on January 2, 2018. "Infosec Rock Star"—ISBN 9781683504825—has 218 pages and is being sold as a trade paperback for $17.95
About Morgan James Publishing:
Morgan James publishes trade quality titles designed to educate, encourage, inspire, or entertain readers with current, consistent, relevant topics that are available everywhere books are sold. (http://www.MorganJamesPublishing.com)