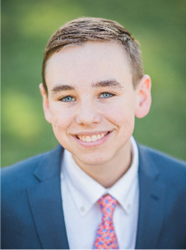 "I want to pass on the wisdom from these geniuses, who did not let their disability define them or discourage them from greatness." Aidan Colvin
PRINCETON, N.J. (PRWEB) February 19, 2018
Acclaimed author, Aidan Colvin, of "Looking For Heroes," will share a message of hope and encouragement with thousands of K-12 students who struggle to read in a webinar on Friday, March 2, 2018 at 1:00 pm EST.
Aidan was diagnosed with dyslexia in third grade. Since then, his mission has been to inspire an estimated 13 million students with dyslexia to embrace their reading challenge and move forward. Dyslexia is a neurological disorder that impairs reading.
Learning Ally, a nonprofit ed-tech organization that has supported struggling readers for more than 70 years, will host the free webinar. It is expected to attract thousands of K-12 students, their teachers and schools in celebration of Read Across America day to bring awareness to the different ways students read and learn.
U.S. teachers and administrators may sign up a student, a class or school-wide event to broadcast the webinar in which students may ask Aidan questions and post their own thoughts.
Looking for Heroes – One Boy, One Year, 100 Letters
Looking for Heroes culminates 100 letters from famous people with dyslexia, such as Writer John Irving, Arctic Explorer Ann Bancroft, Surgeon and CEO Delos Cosgrove, Sculptor Thomas Sayre, Poet Phillip Schultz, Comedian Jay Leno and Filmmaker Harvey Hubbel.
"I want to pass on the wisdom from these geniuses, who did not let their disability define them or discourage them from greatness," says Aidan Colvin.
In his North Carolina middle school, Aidan was provided with a reading accommodation and audiobooks by Learning Ally that he could see text and hear it read aloud by skilled narrators who made reading come to life in multisensory ways. As his comprehension skills flourished in high school, he wrote letters to some of the most accomplished people in modern history to learn how they dealt with their reading challenge.
This must-attend webinar will wrap up Learning Ally's signature K-12 competition, The Great Reading Games, held annually across the U.S. to build stronger reading habits in struggling readers. As students read books, they accumulate points, receive recognition and enhance their skills in comprehension, fluency, critical thinking and vocabulary with the ultimate goal -- to read on grade-level.
In 2017, more than 1200 U.S. schools participated with over 17,000 students reading more than 5.3 million pages. In seven weeks, students were three times more likely to excel in reading frequency and 300% more likely to achieve levels of success that ties directly with their academic, emotional, and social behavior. This year's winners will be announced on February 23, 2018.
To learn more about Learning Ally call 800-221-1098 for a demo or visit http://www.learningally.org/educators.
About Learning Ally
Learning Ally is a leading nonprofit ed-tech organization delivering a comprehensive learning solution for struggling readers in elementary, middle and high schools. Our proven solution includes an extensive library of human-read audiobooks that students want and need to read at home and at school, along with a suite of teacher-focused resources that ensure student success. This reading experience helps accelerate learning, enables a new level of access to knowledge and powerfully increases confidence and self-belief.
Learning Ally successfully partners with more than 13,000 U.S. schools, districts and leading state education systems across the country to empower over 300,000 students with improved comprehension, vocabulary, fluency and critical thinking skills. For over 70 years, the organization has helped to transform the lives of struggling readers by bridging the gap between their reading capability and their academic potential to become confident, lifelong learners who thrive in school and beyond.