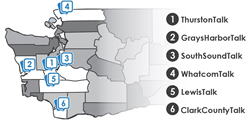 Continued mobile media growth with our Community Social Network product.
Olympia, WA (PRWEB) February 19, 2018
NorthAmericaTalk, one of the fastest growing media companies in Washington, has expanded into the Vancouver, Washington market.
"With the launch of ClarkCountyTalk, the @Talk team has created a destination for marketers focused on mobile users in Western Washington. Our Community Social Network(tm) now covers a population of over 1.8 million neighbors," said Dan Jones, CEO.
The digital media company has already published hundreds of unique articles about what it's like to live, work, and play in the greater Vancouver, Washington area. "Shedding light on the places that people choose to call home is one of our goals and the community is responding by subscribing to consume more of our stories via digital channels," said Martin McElliott, Chief Marketing Officer
"The local Vancouver and Clark County business community has been wonderful to work with," added Jones.
About NorthAmericaTalk
NorthAmericaTalk is a digital media company building and operating Community Social Networks™. Through our proprietary technology and sales tools, we are disrupting the media landscape while building a trusted, valuable local media brand. Today, our media group reaches hundred of thousands of neighbors in Western Washington weekly. Our fast-growing media company is based in Western Washington, spanning from the state capital of Olympia north to urban Tacoma and college-town Bellingham on the Canadian border, south to rural Lewis County, west to the Grays Harbor beaches and even further south along the I-5 corridor to Vancouver, Washington. We count hundreds of various marketers as long-term customers that use our platform to reach their target market, grow their brand, and measure results.