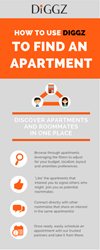 we want to make the entire process of finding a roommate and an apartment more seamless
NEW YORK (PRWEB) February 20, 2018
Diggz, a popular New York City based roommate finder app, is expanding its service to offer its users apartments for rent directly on its platform. Since it was founded in 2014, Diggz has been solely focusing on helping people find roommates. Starting this week, it will now also help connect individuals with an apartment for rent.
"We had this idea all along, but we wanted to focus on our core offering first which was to help people find great roommates. At this point we feel confident that we can take it a step further and connect our users with the right apartment as well", says Ben Blodgett, Diggz's co-founder. The new platform will be available in New York City first and will be later rolled out to the other markets Diggz operates in such as Los Angeles, San Francisco, Miami, Chicago and more. Those that are looking for roommates as well as housing, can now find both directly on the Diggz platform.
With this new service, users can not only browse through available apartments for rent, but also see who else is interested in those apartments and connect directly with those individuals. Further, users can book an appointment to view an apartment they like directly online, choosing the day and time that fits their schedule. Once they make an appointment, a trusted Diggz partner or real estate agent will meet them, show them the apartment and take them through the rental process.
Diggz has partnered with some of New York's best real estate agents, management companies and property owners which include real estate agents from Dougles Elliman, Compass, EXR as well as co-living companies such as Common, Outpost, Dwell and more. Diggz aims to offer its users the same selection as other apartment finding sites, with the emphasis on apartments that are designed for sharing among roommates, as well as diverse co-living options. "We want to offer a housing option to every single one of our users, in any location and at any price point. Also, we want to make the entire process of finding a roommate and an apartment more seamless".
About Diggz
Diggz is an online marketplace for finding roommates that share similar lifestyles and preferences. Via Diggz, users can post their vacant rooms for rent, find a room, or link up with others rent an apartment together. Diggz is based in New York City and was founded in 2014 by Avi Burstein and Ben Blodgett. After both founders personally experienced bad roommate situations they found on craigslist, they decided to create something different and solve one of the most painstaking experiences New Yorkers have to endure, an experience that has almost become a rite of passage. Their aim was to make the roommate search experience efficient, fun and safe that will deliver a roommate that meshes with your lifestyle and preferences. Diggz is available on desktop and is mobile friendly, so it is easy to use at home, work or on the go without needing to install anything.
For more information please contact: ben(at)diggz.co