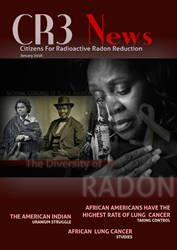 Radon does not discriminate ...
WATERLOO, Ill. (PRWEB) February 21, 2018
Historically, African Americans, American Indians and people of Africa have been battling the same problem for decades and for many of the same reasons.
CR3 News magazine takes a look at those disparities among the three and provides insight into the similar end-struggle . . . lung cancer. The overall 5-year relative survival rate for lung cancer is lower in blacks than in whites: 14% versus 18% . . . Why?
This Black History Special edition will provide a fresh, smart take on the issues, culture, personalities, politics, lifestyle, culture and history of each group of people, featuring some of the best articles that talk about the radon plight.
CR3 News magazine launched January of 2017 for National Radon Action Month, featuring Gloria Linnertz, Director of Citizens for Radioactive Radon Reduction and a pioneer of the Illinois Radon Awareness Act on the cover. Since that time, the publication has grown internationally in readership due to CR3's mission to provide radon information in a centralized manner to its readers with dedication strictly to the radon and lung cancer issue, its effects on society, and the growing attention to devising resolutions to this worldly problem.
Other stories in the special issue will include an examination of the growing awareness of radon in the water supply and uranium mines which is a root cause and common among nations.
Many people in the radon industry have often wondered why there was no consolidated magazine for the "general public" that points them to solutions for radon issues and radon-related lung cancer solutions. Jacquelyn Nixon, Publisher / Lung Cancer Survivor said. "CR3 News magazine will fill that gap. So many industry innovations have been developed from the Scientific, Healthcare, Radon and Advocacy organizations regarding this environmental movement, and we will use the issues to get information directly into the hands of those who need it This publication will be the answer to the question, "Did you ever hear of Radon?"
View Black History Special Edition: https://joom.ag/0BrL
Contact Information
Gloria Linnertz
Citizens for Radioactive Radon Reduction
http://www.citizens4radonreduction.org
(618) 830-4660
Jacquelyn E. Nixon, Publisher
Citizens for Radioactive Radon Reduction
CR3 News Magazine Issues
(412) 961-1980