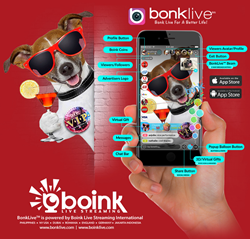 Bonklive a new era in streaming communication
IRVINE, Calif. (PRWEB) February 19, 2018
BoinkLive Streaming Corp., has a recently-launched app with plans for broadcasting and watching live steaming videos free for download on iTunes store, Apple and Android; and through its website at http://www.boinklive.com.
The Board of Directors elected Michael Gilburd as Chairman/CEO to lead this social media-sharing and social networking space company. The former American Express Managing Director is also President and Chief Executive Officer of ValuCorp, the Business Valuation and Intangible Appraisal company where he will also remain. Gilburd has more than thirty years of experience in financial transactional services and corporate development. As part of this new appointment, the Company also announced the opening of its first U.S. office, in Scottsdale, Arizona.
"It is a very exciting time to be joining BonkLive," said Mr. Gilburd. "When I was introduced to BonkLive, I saw their technology as an opportunity for many followers: with programs that include,

Virtual Gifts
Logo advertising
(PPP) Pay Per Press
Slide advertising
Video advertising
Bonk Live debit card
Bonk Live monthly and yearly VIP membership
Superstar talent like, Singers, talk shows, cooking shows and comedy shows all from famous celebrities
Banking services, Payment services, Phone pay services
BonkLive provides the opportunity for new revenue streams in the ever-expanding digital media space, packaged in an extremely compelling platform." Prior to AMEX, he was the National Director of Corporate Finance for BDO USA, one of the nation's largest accounting and consulting firms, and a member of their International Corporate Finance Committee.
Gilburd's first appointment is Gregg Linn, who Michael has worked with for almost a decade, to be President/CFO. Gregg has been a senior level executive primarily with small cap publicly traded companies for more than 30 years. Most recently, he was Chief Executive Officer, President and a Director of Avant Diagnostics, Inc., a publicly-traded molecular diagnostics company.
"We are extremely pleased to have Michael Gilburd as a part of our leadership team," said John Lamb, the BoinkLive outgoing President. "Mr. Gilburd's corporate development accomplishments over the last 30 years have been very impressive. We believe that Michael's background as the founder of a national business valuation firm experienced in creating, improving and preserving value, capital markets and corporate finance will bode well in our efforts to scale our business." Mr. Lamb will remain as President of the Philippines division.
Greg Gifford, the USA Executive Vice President, said "Bonk Live streaming is attracting interest around the world in its pursuit to create a revolutionary social broadcasting application with unprecedented income revenue streams and unique, diverse content that has never before been introduced to a live streaming application. Our company is certainly now on the radar of over 26 reputable tech companies in Silicon Valley who have written positive reviews on us as 'the next big player in the live streaming market' and these reviews are widely available online. Many have highlighted the ingenious advertising model and how Bonk may be a game-changer with broadcasters, viewers, investors, and advertisers all set to gain in a win/win scenario.
About http://www.BoinkiLive Corp.
Boink Live Streaming Corp. was formed as a Delaware corporation for the purpose of creating a social media platform based on broadcasting and watching people live streaming. Our corporate offices are located at 42 Broadway Suite 1536, New York, NY 10004. We have set up strategic offices throughout Asia and in the Unites States of America. Our application was programmed by our technical partner Imagically, with productions builders for the app in Ukraine Idap corporation, Castle productions in Indonesia and its beta version is currently available on Google ITunes store, Apple store and works on all Android and apple phones.
We have created a free to download mobile application that allows its users to watch and broadcast live streaming videos while earning rewards and cash. With one click our users will be able to go live, broadcast themselves, meet new people, connect with their favorite celebrities and gain followers, all by sharing their moments, lifestyle and attitude. Our application features live streaming and chat so our users may stream videos and use our live chat to comment and talk during the live stream; stickers that stay on the face while broadcasting; and live filters and make up effects to liven up the streaming video they are broadcasting. The application also includes live feed search by the use of hashtags allowing users to find videos and broadcasters in line with their interests, hobbies and personalities. The Bonklive Live stream can be shared through other popular social media platforms such as Facebook, Twitter, Instagram and Snapchat to gain followers. The application will allow its users to send gifts to their favorite broadcasters. These gifts can be turned into gold bars which can be redeemed for real money.
Boink will capitalize on the growing entertainment market across the world through the production and promotion of high quality streaming entertainment. With strategic offices located in the
Philippines, Indonesia, Ukraine, Romania, the United Kingdom and the United States.
Safe Harbor Statement
This press release contains forward-looking statements that may be subject to various risks and uncertainties. Such forward-looking statements are made pursuant to the "safe harbor" provisions of the Private Securities Litigation Reform Act of 1995 and may include statements regarding our estimates, future contracts, future financial performance or results of operations, including the number of recurring subscribers, revenue growth, cost of revenues, operating expenses, interest expense, net loss and cash flow. Unless otherwise required by law, we undertake no obligation to publicly update or revise any forward-looking statements, whether as a result of new information, future events or otherwise after the date of this press release. Additional information concerning risks and uncertainties that may cause actual results to differ materially from those projected or suggested in the forward-looking statements may be found in the company's private Placement Memorandum.