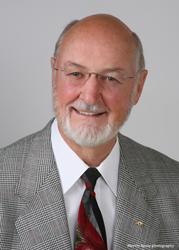 OMAHA, Neb. (PRWEB) February 20, 2018
C&A Industries, Inc., a national leader in staffing and recruiting, announces its founder and chairman, Larry Courtnage, has been named by the Greater Omaha Chamber of Commerce to its 2018 Business Hall of Fame. Courtnage is one of five individuals being recognized by the organization, now in its 25th year of honoring area leaders for their commitment to Omaha's business landscape, economic vitality, and to the community.
Courtnage launched C&A Industries in 1969 as its single employee. Today, C&A is the parent company to four staffing and recruiting firms, Aureus Medical Group, Aureus Group, AurStaff, and Celebrity Staff. Its portfolio also includes FocusOne Solutions, a managed services provider; AurHomes, a corporate housing provider; and AurTravel, a full service travel agency.
Comprised of 700 corporate employees and thousands of contract employees nationwide, C&A is among the 100 largest staffing and recruiting firms globally and among the 30 largest healthcare staffing firms in the country. Its largest affiliate, Aureus Medical, is the fifth largest healthcare staffing firm nationally. In 2017, C&A was named among Achievers 50 Most Engaged Workplaces™ in North America and recognized as one of the Best Places to Work in Omaha™ for the seventh time.
Courtnage founded and funds The Kim Foundation, a non-profit dedicated to mental health advocacy and suicide prevention efforts. The Foundation's work has made a sizable impact within the Omaha metropolitan area and across the state of Nebraska in raising awareness, educating the public, reducing stigma, and supporting mental health and suicide prevention-related programs and initiatives.
His industry and civic involvement includes the Nebraska Chapter of the National Association of Personnel Services (NeAPS), the American Staffing Association, and Nebraska Chamber of Commerce, along with the Tangier Shrine Center, local Sertoma Club, and Bellevue University.
Courtnage will be honored along with all 2018 inductees during an April 17 gala event at the Holland Performing Arts Center.