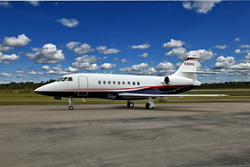 We're thrilled to have 4 more aircraft to add to our floating fleet. The floating model enables us to meet our customers' demands. Despite the fact we're located in South Florida, we're able to offer point to point pricing beyond the countries busiest markets. Our customers love the option
WEST PALM BEACH, Fla. (PRWEB) February 20, 2018
All aircraft are immediately available for charter, and will float so are easily positioned for true one way pricing. They all offer unlimited, domestic wi-fi. The Falcon 2000, which underwent an interior and exterior refurbish in 2017 is comfortably configured with 8 Captain's chairs. The 800XP is Jet Access's 6th of this popular business jet.
"We're thrilled to have 4 more aircraft to add to our floating fleet. The floating model enables us to meet our customers' demands. Despite the fact we're located in South Florida, we're able to offer point to point pricing beyond the countries busiest markets. Our customers love the option it provides." said Jet Access Aviation's President, Jack E Lambert Jr.
Jet Access Aviation is an ARG/US Platinum and Wyvern Approved Worldwide Charter Operator and Aircraft Management firm adhering to the strictest safety standards. Jet Access helps connect business travelers with easily accessible aircraft and specializes in the floating fleet model which offers one-way private jet charter flights. The company's fleet consists of a variety of aircraft which include Gulfstream 200s, Challenger 604, Citation Excel, Falcon 2000s as well as Hawker 800XPs, Lear 60s and several Light Jets.
For more information about Jet Access Aviation, please visit http://www.jetaccessaviation.com or call 561-283.1214.