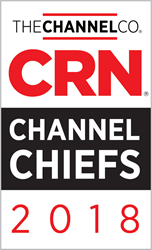 Marco has lead exponential growth via our channel, both domestically and internationally, and there continues to be a bright future ahead for Trusted Metrics.
RALEIGH, N.C. (PRWEB) February 20, 2018
Trusted Metrics, creator of the award-winning Elastic SOC® platform, announced today that CRN®, a brand of The Channel Company, has named Marco Muto, COO, to its prestigious list of 2018 Channel Chiefs. The executives on this annual list represent top leaders in the IT channel who excel at driving growth and revenue in their organization through channel partners.
Marco Muto, along with the entire team at Trusted Metrics, has been building and expanding their partner program since 2015. Elastic SOC® is Trusted Metrics' feature platform and services solution that provides an affordable, scalable and sophisticated next-gen SIEM and SOC offering to partners around the globe. Beyond Marco's ability to execute successfully within the channel, the key components to the programs' accomplishments can be correlated to the following:
1. Scalable, Flexible and Affordable: Elastic SOC® is a proprietary, multi-tenant, cloud-based SOC portal for MSSPs and MSPs, combined with predictable monthly pricing based on the number of log/event sources, not events per second (EPS) or other variable data consumption models.
2. Services, too: Trusted Metrics offers its team of security experts to not only help configure and maintain the SIEM/SOC platform, but also provide 24x7 security event monitoring, analysis and escalation.
3. Channel History: Trusted Metrics is not a stranger to the channel; we developed our roots as a former service provider, reselling security vendor technology to customers in all verticals across the US.
Channel Chief honorees are selected by CRN's editorial staff on the basis of their professional achievements, standing in the industry, dedication to the channel partner community, and strategies for driving future growth and innovation. Each of the 2018 Channel Chiefs has demonstrated loyalty and ongoing support for the IT channel by consistently promoting, defending and executing outstanding channel partner programs.
"The executives on CRN's 2018 Channel Chiefs list stand out for their exceptional leadership, vision and commitment to the channel," said Robert Faletra, Executive Chairman of The Channel Company. "These individuals deserve special recognition for their development and support of robust partner programs, innovative business strategy and significant contribution to the overall health of a vigorously growing channel. We applaud each Channel Chief's impressive record of accomplishments and look forward to their future successes."
Trusted Metrics' Founder and CEO, Michael Menefee said, "This recognition by CRN reinforces our vision that the channel program and technology we've custom-built for partners, alongside our ability to execute on its delivery, is exactly in-line with market demand. Marco has lead exponential growth via our channel, both domestically and internationally, and there continues to be a bright future ahead for Trusted Metrics.
The 2018 CRN Channel Chiefs list is featured online at http://www.crn.com/channelchiefs and will appear in the February 2018 issue of CRN.
--
About Trusted Metrics: Trusted Metrics Inc. provides Elastic SOC®, a multi-tenant, cloud-based software and services solution which gives organizations of any size the ability to incorporate next-gen SIEM as a framework for centralized log correlation, intrusion detection, asset management, threat intelligence, alarm generation and network performance management into a single console. This solution was purpose-built for managed service providers (MSPs) and managed security service providers (MSSPs), giving them the ability to deploy a white-labeled virtual SOC for their clients, enabling around-the-clock network security monitoring, protection and response.
About The Channel Company: The Channel Company enables breakthrough IT channel performance with our dominant media, engaging events, expert consulting and education and innovative marketing services and platforms. As the channel catalyst, we connect and empower technology suppliers, solution providers and end users. Backed by more than 30 years of unequalled channel experience, we draw from our deep knowledge to envision innovative new solutions for ever-evolving challenges in the technology marketplace.
CRN is a registered trademark of The Channel Company, LLC. All rights reserved