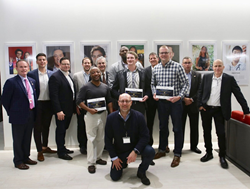 We believe that we have developed a novel way for out-of-market fans to connect and find a new community, wherever they live or travel.
LOS ANGELES (PRWEB) February 20, 2018
FanWide (http://www.FanWide.com), the company dedicated to helping out-of-market sports fans find a local fan club or game watch party, won the HYPE Sports Innovation Global Competition focusing on basketball innovation. Seattle-based FanWide and nine other international sports tech companies beat out hundreds of other applicants to pitch in a live contest at the University of Southern California's Marshall School of Business, that was held alongside the NBA All-Star Weekend. Second place went to draft prospect assessment program Most Valuable Recruit, and third place to MaxOne, a company that coaches athletes using digital training programs.
This international competition was organized by HYPE Sports Innovation, a global platform which facilitates connections and investments among the sports innovation ecosystem, with over 26,000 leaders and key decision makers in the field of sports, including sports and tech global brands, academia, investors and startups. The competition was held in partnership with Spalding, Silicon Valley Bank and the University of Southern California Marshall School of Business. The judging panel consisted of current and former sports industry executives from the partners, the Los Angeles Dodgers, Naismith Memorial Basketball Hall of Fame, Legends, PUMA, Reebok, Fruit of the Loom, MGA Entertainment, CLUB.ONE, San Jose State University, and the University of Queensland.
FanWide is a free website and app that connects sports fans from every team in any city through in-person meetups organized by local fan clubs. In addition to promoting existing in-person game watch parties using the world's largest database of sports fan clubs, FanWide also develops new communities for every pro, college, and international team at sports bars nationwide, while measuring TV viewership. Since launching in 2016, Seattle-based FanWide has promoted over 425,000 events at 10,000 hosts for 11,000 fan clubs.
"FanWide is honored to receive this prestigious award and recognition from top influencers in the sports industry," said Symon Perriman, President and Founder of FanWide. "We believe that we have developed a novel way for out-of-market fans to connect and find a new community, wherever they live or travel. We have recently activated our sponsorship business, allowing brands to connect with fan clubs, so the support from so many industry leaders has been amazing."
The first-place prizes, which will support FanWide's ongoing growth, include a $10,000 cash prize, a trip to Spalding's headquarters to pitch to the R&D team, a six-month membership to the Global Sports Innovation Center, and the opportunity to connect with HYPE's network of investors.
FanWide encourages sports influencers and accredited investors to contact the company if they are interested in supporting FanWide, the world's most innovative sports tech startup. For more information on FanWide, visit http://www.FanWide.com.