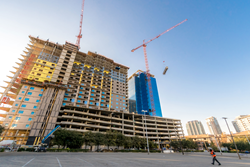 From The Union Dallas and Thanksgiving Tower in Dallas to One World Trade Center in New York City, HVAC innovations are increasing efficiency, exceeding ASHRAE standards, and delivering better outcomes through Air Intelligence
DALLAS (PRWEB) February 20, 2018
The Union Dallas, a new 800,000 square foot mixed-use construction in the Uptown Dallas neighborhood, was equipped with an innovative, high-efficiency HVAC system from HTS Texas, the Texas partner of the largest independent commercial HVAC manufacturers' representative in North America. The system's four 30,000 lb. Daikin Applied AWV Pathfinder® air cooled chillers were crane lifted to the building's rooftop, where they will supply heating and cooling capabilities for the 22-story Class-AA office tower.
The Union Dallas, which began construction in 2016 and is scheduled to be completed in 2018, will include two towers and offer 417,000 square feet of premier office space, a 309-unit residential high-rise building and 87,000 square feet of retail space. Located in downtown Dallas at Field Street and Cedar Springs Road, The Union Dallas will reside near several local hot spots, including Klyde Warren Park, American Airlines Center, and the Perot Museum of Nature and Science.
"We hope The Union Dallas will serve as an example of contemporary, modern design for urban working and living," said Mike Ebert, managing partner for RED Development, project developer for The Union Dallas. "We took the concept of 'work-live-play' further on this project by keeping the ideas of culture and community at the center of our design intent. With an open and out-ward focused architecture, we'll bring four distinct elements – office, residential, retail and open space – together in harmony to create an inviting atmosphere for Dallas residents."
To accommodate the development's size and anticipated occupancy, The Union Dallas required a powerful HVAC system capable of serving the high-rise construction. Building owners and construction teams turned to HTS Texas to select the HVAC equipment and design an ideal solution for this unique project.
"One of our top priorities when considering HVAC options for The Union Dallas was minimizing our energy usage and environmental impact despite the size of the building," said Mike Ebert, managing partner for RED Development. "In addition, we wanted to incorporate equipment that could operate quietly to avoid causing disruptions to the tenants working or living in the space. HTS Texas had the technical knowledge necessary to help us understand our options, and guide us toward the best solution."
When selecting the equipment to implement for The Union Dallas, representatives from HTS Texas made the decision to steer the project's HVAC system design away from the initial plans, which called for the use of water cooled chillers. Key considerations for HTS Texas's equipment selection focused on the dependable reputation, footprint, and efficiency of Daikin's air cooled screw product. By suggesting that the project utilize an air cooled system rather than a water cooled one, HTS Texas was able to present a cost-effective solution to the construction team, and save the facility millions of gallons of water usage each year. The four air cooled screw chillers are also 100% configurable with Daikin's VVR technology, which allows complete control to save energy while still accommodating varying occupancy needs, regardless of ambient temperature or time of day.
"The Union Dallas was an interesting project for HTS Texas because the project originally had water cooled chillers as the basis of design. Traditionally in the United States, large HVAC projects have always used centrifugal chillers as the basis of design, whether it's a hospital, university, or large commercial office building," said Steve Poles, Dallas branch manager for HTS Texas. "However, over the last several years, advancements in chiller technology – and particularly in Daikin's AWV air cooled chillers – have closed the gap to centrifugal chillers. For The Union, we were able to initiate a switch to air cooled chillers and use Daikin's innovative products to provide both efficiency and water savings for the entire building."
Daikin designs and manufactures technologically advanced commercial HVAC systems for customers around the world. Founded in 1924 in Osaka, Japan, Daikin is the world's leading manufacturer of air conditioners and refrigerants. Daikin is dedicated to the superior manufacturing of water cooled chillers, air cooled chillers, air handlers, rooftop air units, self-contained units, fan coils, water source heat pumps, and more.
"Daikin has always been at the forefront of advanced technology. But it's not enough to simply look at buildings as a place to do business. Organizations need the right insights and tools to ensure those inside the building are positively contributing to an organization's strategic goals and outcomes. Around the country, Daikin solutions are helping organizations breathe easier with advanced technology like our Magnitude magnetic bearing chiller and Vision air handlers with their high efficiency performance," said Kirk Thorne, EVP of sales, marketing, and aftermarket for Daikin Applied Americas. "From The Union Dallas and Thanksgiving Tower in Dallas to One World Trade Center in New York City, our innovations are increasing efficiency, exceeding ASHRAE standards, and delivering better outcomes through Air Intelligence – which we think of as the unique wisdom and passion essential to delivering quality air."
To continue developing their U.S. operations, Daikin opened the doors to a state-of-the-art manufacturing facility in Texas in 2017. The 4.2 million square foot, LEED Gold certified campus allows Daikin to consolidate manufacturing, engineering, logistics, marketing, and sales for their heating and air conditioning products in one location. The facility is designed to encourage collaboration and innovation of Daikin employees across departments, and provide better service and easier access to products for customers throughout Texas.
"Daikin's commitment to worldwide HVAC leadership was represented by the grand opening this past year of the industry's largest manufacturing facility, Daikin Texas Technology Park (DTTP), just west of Houston in Waller, Texas. Daikin's commitment extends to premium manufacturer's representatives who we believe will grow with us. HTS has been instrumental in propelling sales of Daikin Variable Refrigerant Volume (VRV) products, providing industry leading solutions for Daikin VRV products in Texas, and we are grateful to have HTS with us as a committed manufacturer representative of Daikin intelligent solutions," said Marc Bellanger, director of marketing for Daikin North America LLC.
HTS Texas has maintained a partnership with Daikin since 2001, when HTS began its Texas operations. As a manufacturer's representative, HTS Texas provides Daikin equipment and parts in seven offices across the state in Dallas, Fort Worth, Austin, Round Rock, San Antonio, Houston, and Beaumont. In recent years, HTS Texas has continued to grow its business, and earned recognition as a part of the Inc. 5000, which ranks the fastest-growing private companies in the U.S., for three consecutive years from 2015 to 2017. This growth is evident in the company's DFW offices, as these regions provide unique opportunities in a growing economy that draws in businesses from a variety of vertical markets, from healthcare and data centers to higher education and commercial office.
"Over the last 12 months, the HTS Texas offices in Dallas and Fort Worth have doubled our business year over year, and with that has come some big changes," said Steve Poles. "We have grown our team significantly and are actively adding sales engineers, estimators, and project managers across all lines of our business, including mechanical equipment sales, airside product sales, and building automation sales, along with continuous growth in our service organization."
As a full-service HVAC solutions provider, HTS Texas is committed to delivering real success to all parties who interface with a project's HVAC equipment. HTS Texas employees develop a strong understanding of all products the company represents, and offer the industry expertise necessary to determine the best solution for a broad range of applications. The company's HVAC expertise, combined with a full suite of specialized departments focused on equipment, building automation systems, airside products, parts, and service, allows HTS Texas to provide support for HVAC systems through the entire product life cycle.
To learn more about how HTS Texas designed the HVAC system for The Union Dallas, view the project video here.
About HTS
HTS is the largest independent commercial HVAC manufacturers' representative in North America. The company represents more than 100 HVAC suppliers and has approximately 700 employees in 16 cities across Canada and the United States. Delivering Real Success® to all involved in its projects, HTS provides HVAC and refrigeration solutions to commercial, institutional, and industrial markets from leading manufacturers such as Daikin, Epsilon, AcoustiFLO, and Haakon Industries. For more information about HTS, visit http://www.hts.com/ or connect via LinkedIn, Twitter, and Facebook.
About Daikin Applied
Daikin Applied, a member of Daikin Industries, Ltd, designs and manufactures technologically advanced commercial HVAC systems for customers around the world. Customers turn to Daikin with confidence that they will experience outstanding performance, reliability and energy efficiency. Daikin Applied equipment, solutions, and services are sold through a global network of dedicated sales, service, and parts offices.
About RED Development
A privately held, wholly integrated commercial real estate company based in Phoenix with corporate offices located in Dallas, TX and Overland Park, KS, RED maximizes asset value and performance for its high-quality retail and mixed-use portfolio that comprises 34 properties, totaling nearly 17 million square feet in 11 states. RED is well known for developing the large-scale CityScape project in Phoenix, a new office, hotel, residential, and entertainment destination that has re-energized the city's downtown adjacent to professional sports venues including Chase Field and US Airways Center. For more information, visit http://www.reddevelopment.com.