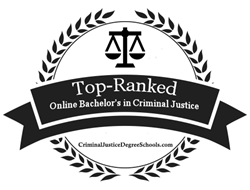 "The variety of factors in our ranking methodology helps characterize each program according to its strengths, while highlighting the elements that are most important to those considering a criminal justice undergraduate degree, such as value and graduate success." - Rob Voce, Founder
SEATTLE (PRWEB) February 20, 2018
CriminalJusticeDegreeSchools.com, a leading criminal justice-focused website that provides comprehensive information about criminal justice degree programs, careers, and law enforcement certification requirements in the US, has released its ranking of the top online bachelor's degrees in criminal justice.
To be considered for the list, schools with an online bachelor's program in criminal justice or a closely related field were evaluated for not-for-profit status and regional accreditation from one of the six regional accreditation agencies in the US recognized by the US Department of Education. The ranking programs are also equivalent to degrees granted to traditional, on-campus students. The rankings measure diverse factors including value, academic excellence, student experience and support, and graduate success.
The ranking uses a unique methodology that considers such criteria as the average tuition cost per online credit hour; the graduation rate; the percentage of tenured faculty; the average tuition cost per online credit hour; and school rankings according to trusted college evaluation sources.
According to Rob Voce, founder of CriminalJusticeDegreeSchools.com, "As more schools offer online programs in criminal justice, the data available for prospective students to research programs is becoming quite dense. The variety of factors in our ranking methodology helps characterize each program according to its strengths, while highlighting the elements that are most important to those considering a criminal justice undergraduate degree, such as value and graduate success."
Overall, 50 online bachelor's in criminal justice programs met the screening benchmarks and ranked on this year's list. In addition to ranking factor data for included programs, the 2018 Top-Ranked Online Bachelor's Programs in Criminal Justice list provides detailed information about top schools' tuition rates for in-state, out-of-state, and online students; distance education services and support for online students; and admissions figures and requirements. Visitors can also review:
Up-to-date profiles of selected online criminal justice programs
Data on institutional faculty tenure and experience levels of online faculty
Core criminal justice courses for profiled programs
The top schools on this year's list are:
1. University of Florida (Gainesville, FL)
2. Florida State University (Tallahassee, FL)
3. Ohio University (Athens, OH)
4. Pennsylvania State University (State College, PA)
5. University of Massachusetts Amherst (Amherst, MA)
6. Colorado State University Global Campus (Fort Collins, CO)
7. Western Carolina University (Cullowhee, NC)
8. Arizona State University (Tempe, AZ)
9. University of Cincinnati (Cincinnati, OH)
10. Washington State University (Pullman, WA)
11. Ball State University (Muncie, IN)
12. West Texas A&M University (Canyon, TX)
13. Northwestern State University of Louisiana (Natchitoches, LA)
14. University of North Texas (Denton, TX)
15. Lamar University (Beaumont, TX)
16. Embry-Riddle Aeronautical University (Daytona Beach, FL)
17. Old Dominion University (Norfolk, VA)
18. University of Nebraska at Kearney (Kearney, NE)
19. University of Wisconsin-Platteville (Platteville, WI)
20. Eastern Oregon University (La Grande, OR)
21. Eastern Kentucky University (Richmond, KY)
22. Missouri State University (Springfield, MO)
23. Norwich University (Northfield, VT)
24. Valdosta State University (Valdosta, GA)
25. Eastern New Mexico University (Portales, NM)
26. Southern New Hampshire University (Manchester, NH)
27. California State University, San Bernardino (San Bernardino, CA)
28. Portland State University (Portland, OR)
29. University of the Cumberlands (Williamsburg, KY)
30. Utica College (Utica, NY)
31. California Baptist University (Riverside, CA)
32. State University of New York at Canton (Canton, NY)
33. California State University, Sacramento (Sacramento, CA)
34. University of Toledo (Toledo, OH)
35. Angelo State University (San Angelo, TX)
36. Washburn University (Topeka, KS)
37. Campbellsville University (Campbellsville, KY)
38. St. John's University (Queens, NY)
39. John Jay College of Criminal Justice (New York City, NY)
40. New England College (Henniker, NH)
41. Azusa Pacific University (Azusa, CA)
42. Northern Arizona University (Flagstaff, AZ)
43. Wilmington University (New Castle, DE)
44. University of Maryland University College (Marlboro, MD)
45. William Peace University (Raleigh, NC)
46. Bellevue University (Bellevue, NE)
47. Indiana State University (Terre Haute, IN)
48. Barry University (Miami Shores, FL)
49. Concordia University Portland (Portland, OR)
50. University of Mary (Bismarck, ND)
*See the full rankings and program details here: https://www.criminaljusticedegreeschools.com/criminal-justice-degrees/online/
Media Contact:
Laura McPherson
Project 8 Labs Career Guides
info[at]criminaljusticedegreeschools[dot]com
(253) 235-9172
About CriminalJusticeDegreeSchools.com: Started in 2010, Criminal Justice Degree Schools is the definitive site for learning how to start a criminal justice career. We provide up-to-date information on criminal justice degree programs, career paths, job opportunities, and salaries. Criminal Justice Degree Schools is headquartered in the Seattle metro area and has been a Better Business Bureau accredited business since 2012.