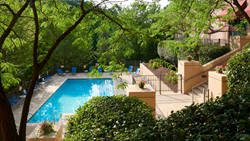 Our unique approach as an award-winning Marriott manager and knowledge of market will help to maximize the potential of this great hotel
ST. LOUIS (PRWEB) March 01, 2018
Crescent Hotels & Resorts has been selected to manage the 299 room Marriott St. Louis West hotel. Crescent, based in Fairfax, Virginia is a nationally recognized award-winning manager of premier hotels, resorts and conference centers throughout the United States and Canada.
This business and leisure hotel offers ponds and scenic hiking trails to create a retreat-like setting, located just minutes from Spirit of St. Louis Airport and St. Louis Lambert International Airport, Six Flags® St. Louis, the St. Louis Zoo and St. Louis Premium Outlets.
"Crescent has tremendous experience operating hotels in St Louis and Marriott hotels in major cities," said Michael George, president and CEO of Crescent Hotels & Resorts. "Our unique approach as an award-winning Marriott manager and knowledge of market will help to maximize the potential of this great hotel."
Guests can enjoy ergonomic workstations and complimentary Wi-Fi in their rooms, an on-site fitness center, indoor and seasonal outdoor pools, and more than 21,000 square feet of meeting space across 15 event rooms for business meetings, conferences, weddings and other events for groups of 12 to 800 people.
The hotel also features delicious American cuisine from the Blue Fire Grille restaurant, open for breakfast, lunch and dinner.
For more information, or to book your stay at the Marriott St. Louis West hotel, visit http://www.marriott.com/hotels/travel/stlwe-marriott-st.-louis-west/ or call (314) 878-2747.
About Crescent Hotels & Resorts:
Crescent Hotels & Resorts is an award winning, nationally recognized, top-3 operator of hotels and resorts. Crescent currently operates over 100 hotels, resorts and conference centers in the US and Canada. Crescent is one of the few elite management companies approved to operate upper-upscale and luxury hotels under the brand families of Marriott, Hilton, Hyatt and IHG. Crescent also operates a collection of legendary independent lifestyle hotels and resorts under Latitudes Collection, Lifestyle by Crescent. Crescent's clients are made up of hotel REITs, private equity firms and major developers. For more information, please visit http://www.crescenthotels.com, http://www.latitudesbycrescent.com or connect with Crescent on LinkedIn.