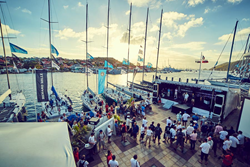 (PRWEB) February 20, 2018
Regatta season in the Caribbean is approaching, and this year's sailing races will provide much-needed economic stimulus to islands impacted by Hurricanes Irma and Maria in September 2017. With many hotels in St Barths, St Martin and the BVI closed for repairs this season, most visitors and participants associated with these events will rely on renting private villas which will serve as an important source of revenue for each island's governments.
The St. Barths Bucket Regatta will be held from March 15th through 18th, marking its 24th year. Twenty-six yachts will participate this year—a figure that is down 30% from a year ago but sufficient to stage a world-class regatta with three classes of boats, according to organizer Peter Craig. The St. Barths Bucket is an invitational regatta, open to cruising yachts whose length is 30.5 meters (100') or greater. The Bucket Trophy is presented to the boat which prevails in the most competitive, closely contested class. The Bucket, as it is known, typically generates the more incremental visitors than any other event given that it falls during the spring break window.
Les Voiles de Saint Barth Regatta runs April 16th through April 22nd. Approximately sixty yachts will participate this year, in eight classes, says coordinator Alexandra Lemarchand-Guibout. Organizers will set up a race village on the dock in Gustavia harbor, with live concerts nightly. Musician Jimmy Buffett returns as the ambassador of the event, and hopes that the regatta will contribute to the full recovery of the island. Official sponsors include Richard Mille, Veuve Clicquot, Code Zero and WIMCO Villas.
Both of these regattas attract incremental visitors to the island including crews (12-35 per yacht), guests of boat owners, regatta staff and volunteers, media and sponsors as well as boat enthusiasts who simply want to enjoy the races and the activity that surrounds them. Restaurants, grocery stores , marine services companies and rental car agencies benefit most from these events, With 90% of local hotel rooms in St. Barths closed for repairs this year, private villas from agencies like WIMCO will house most crews and sponsors, and represent a significant source of revenue for the local government. (The island charges a 5% visitor tax based on the weekly rate). WIMCO's President Stiles Bennet reports that 60% of their portfolio of 370 private villas on St Barths are now open, representing over 600 bedrooms of capacity. WIMCO Specialists have a special portfolio of villas well suited for crews (villas with double beds and reasonably priced) and ones for spectators (villas in Pointe Milou or Colombier which offer some of the best views of the race course).
In St. Martin, the decision to go forward with the annual Heineken Regatta was announced shortly after hurricane Irma hit the island. Race director Paul Miller stated that the regatta "is deeply symbolic, and it's a rallying point." With most hotels in St Martin closed for repairs, and few private villas open for the season, many of the participants will be staying offshore this year, which will minimize the demands on local infrastructure,. However from March 1-4 there will still be a vibrant race village at Princess Port de Plaisance Resort on Simpson Bay lagoon featuring concerts each night. Tickets will be sold for each nights concerts, and a portion of all proceeds will go towards local charities, including K1 Britannia, St. Maarten Sea Rescue Foundation, St. Maarten Nature Foundation, and the St. Maarten Yacht Club Regatta Foundation, in assistance of their various hurricane relief projects. A portion of the food & beverage sales, art exhibition sales and much more will also go towards the hurricane relief fund. Organizers anticipate that the event will have a positive economic impact as St. Martin rebuilds.
The BVI Spring Regatta will run from March 26th through April 1st. This year the Regatta Village will be located on the Outer Marina at Nanny Cay on Tortola. "The slips for all of the racing and mother ships will be located here, so we have brought the party closer to the sailors." said Lou Schwartz, Village Manager. The village will feature a long bar, a pop-up restaurant, and live music each night. The annual Antigua Sailing Week, will run as scheduled this year between April 28th through May 4th.
The data on economic activity will vary from island to island, however the continuation of these regattas in the face of fall's hurricanes will surely aid local economies which rely on tourism.