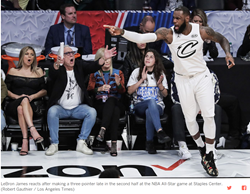 LOS ANGELES (PRWEB) February 19, 2018
During last night's NBA All-Star game, PodcastOne Chairman Norman Pattiz lobbied LeBron James from courtside seats, between hanging out with PodcastOne Sportsnet podcasters and partners. Sportsnet attendees included Hall of Famer Shaquille O'Neal, sports personality and actor Rob Riggle, sportscasters Rich Eisen and Suzy Shuster, longtime NBA photographer Andrew D. Bernstein and Lakers owner Jeanie Buss.
Pattiz was featured in today's Los Angeles Times (full story at http://lat.ms/2EDRKD1).
Visit PodcastOneSports.com to access all PodcastOne Sportsnet programs, including The BIG Podcast with Shaq, Riggle's Picks with Rob Riggle and Sarah Tiana, Not Just Sports with Rich Eisen and Suzy Shuster, Legends of Sports with Andrew Bernstein, America's Lakers Podcast with Jay Mohr (the official team podcast), and more.
About PodcastOne
PodcastOne, (http://www.PodcastOne.com) the nation's leading advertiser-supported podcast network, was founded by Norman Pattiz, founder of radio-giant Westwood One. The network currently hosts more than 200 of today's most popular podcasts, including Adam Carolla, Shaquille O'Neal, Norman Lear, Steve Austin, Kaitlyn Bristowe, Dan Patrick, Cold Case, Spencer and Heidi Pratt, Rob Riggle, Heather and Terry Dubrow, Jim Harbaugh, Geffen Playhouse, Ladygang, Dr. Drew, Chael Sonnen, Penn Jillette, Rich Eisen, Jay Mohr, the Forbes on PodcastOne Network and more.
###