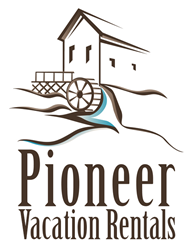 Pioneer Vacation Rentals, The most trusted name in Vacation Rentals ™
GATLINBURG, TN (PRWEB) February 21, 2018
Pioneer Vacation Rentals, a full-service vacation cabin rental company in Gatlinburg, TN. this week announced the launch of their rewards program which is based on guest referrals.
Requiring no fees or signups, the rewards program is enticing all current and former guests to refer their family, friends, co-workers, and neighbors to the rental company. For every 3-nights those friends or family members you refer to Pioneer stay in one of our cabins, you will receive 1-night free.
"There's nothing quite like experiencing the pristine beauty of the Great Smoky Mountains and to do it while relaxing on the deck of a cozy and beautiful cabin makes it even more enjoyable," said Peggy Mountcastle, general manager and co-owner of Pioneer Vacation Rentals. "In order to show our appreciation to our growing number of guests, we have introduced a rewards program just in time for the for spring break, providing an incentive to everyone who has ever stayed with us to please refer a friend."
Pioneer offers some truly magnificent log cabins, with plenty of hiking, biking, fishing, swimming, rafting, and wildlife viewing available to visitor's year around. Just minutes from both Gatlinburg and Pigeon Forge, as well as the Douglas Lake, there is truly something for everyone at Pioneer Vacation Rentals.
While Gatlinburg has plenty of cabins for families, couples and groups, it's challenging to find professionally managed cabins which are more competitively priced and superbly maintained than those at Pioneer Vacation Rentals. "Since 2010, we've helped thousands of guests find exactly what they were looking for, and at an affordable price, to experience the pristine beauty of the Great Smoky Mountains"
Pioneer Vacation Rentals offers 1 to 6-bedroom cabins, as well as cozy and private honeymoon cabins, family vacation cabins, and large group cabins to accommodate wedding parties, family reunions, and an array of other types of events. "Having been in the business for more than 30 years, and a business owner since 2010, I can really appreciate the value of communication and we regularly update our website, blog, and social media profiles in order to really help keep our guests, cabin owners, and others who are interested, keep up to date and in the know".
"We want to thank our loyal network of guests whom have stayed with Pioneer Vacation Rentals previously, and reward them with 1-free night for every 3-nights booked by a friend or family member they refer, so let's help spread the word about our new rewards program, and head on over to our website to learn more about our variety of cabin options" says Peggy Mountcastle.
More than just a cabin rental company, Pioneer Vacation Rentals is also a cabin management company, providing reliable, professional property management services to anyone with a cabin in the Smoky Mountains, Gatlinburg, Pigeon Forge or Wears Valley area.
For more information, visit: https://pioneerrents.com
Or find us on Facebook at https://www.facebook.com/pioneerrents