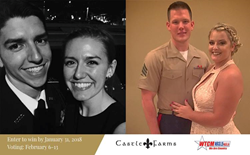 CHARLEVOIX, Mich. (PRWEB) February 21, 2018
In the midst of training, boot camp and deployment, two military families now have dream wedding to add to the calendar. For the first time since the annual competition began in 2014, more than one couple has been selected to receive a picturesque Castle Farms wedding free of charge.
Eligible couples submitted their information and love story to a contest platform on the Castle Farms Facebook page. The public was then asked to vote for their favorite finalists.
Meet Sam and Katie, college Seniors and the first ROTC couple to win the nuptial giveaway. Sam's army commission begins the day before both he and Katie graduate from college in Ohio. They'd planned to work out details of a wedding in Michigan from their dorm rooms while balancing classes, homework and internships. Now, the planning will be done for them by gracious Michigan vendors who are donating their time and services.
Castle Farms had reached out to several recruiters during the decision making process regarding their eligibility. What set Sam apart is although he's ROTC, he has a signed contract and a commission date. Therefore, Castle Farms chose to categorize his service as reserves. Since this was a first time having an ROTC participate in the contest, the team at Castle Farms did their diligence to collect information and make the best decision possible.
The purpose of the contest is to celebrate the selfless dedication of our Military members and their families. Sam, (in the ROTC) has made the decision to sign up and serve our country which the Northern Michigan venue felt should be recognized since every military career starts with signing up.
Connor and Natalie received the second highest number of votes. The childhood sweethearts, married in a courthouse without pomp and circumstance, have already endured three deployments. In Connor's submission, he professes his love and appreciation for Natalie.
"After all this beautiful woman has been through…she deserves the most romantic fairytale wedding ever," he says.
Connor, has been a Marine for 4 years and is currently deployed overseas. He is someone Castle Farms also felt should be recognized because of his dedication and sacrifices he has already made to protect and serve our country. Castle Farms felt that by awarding two winners this year, they could honor both couples who worked so hard to get votes.
It's been three years since the Michigan wedding venue first celebrated the selfless dedication of military members and their families. Like past winners, the 2018 honorees will exchange vows in front of up to 150 guests among stone archways and colorful gardens.
Castle Farms thanks all servicemen and women for their dedication to the United States of America. By offering access to their beautiful property and working with selfless vendors to make these dream weddings come to life, they express gratitude for those who serve.
For more information about Castle Farms, the vendors donating their services and prior winners, visit: https://www.castlefarms.com/events/military-wedding-giveaway/