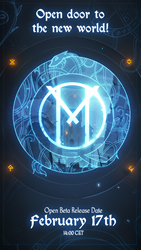 I was never so close to a world of magic. This game is addictive!
COPENHAGEN, Denmark (PRWEB) February 21, 2018
Central European software company Mawa s.r.o. recently announced the open-beta launch of Maguss, a free-to-play location-based mobile MMORPG that offers gamers a full wizarding experience. The game transforms the real world into a fantastical land where players can cast spells, collect ingredients, brew potions, battle magical creatures, and duel other players for glory and treasure. Maguss is available for download at Google Play and the App store.
Maguss has been receiving buzz long before its beta release. In December 2016, the game won the Slovak Startup Awards in the Art and Design category. In March 2017, it also received the Slovak Forbes 30 under 30 Award. As a testament to its popularity, Maguss has been downloaded over 500,000 times in Google Play alone, with a conversion rate of 33.5% for organic downloads.
The game boasts of a variety of features:
Location-based Adventuring – much like Pokémon Go, players travel through a virtual map populated with locations to explore, monsters to duel, ingredients to gather, and treasures to discover.
Interactive Approach to Casting Spells – by drawing glyphs on their screen, players can cast over 40 spells with a variety of powerful effects, ranging from offensive abilities to protective charms and debilitating curses.
Strategic Character Building – gamers may choose from four character classes (Paladin, Rogue, Warden, and Druid), each with their own advantages and access to unique spells. They may also customize characters by investing points into attributes (Empower, Defense, Concentration, Evasion, Critical Empower, and Critical Chance).
Brew A Variety of Potions – players may craft numerous potions to heal damage, cure afflictions, buff players, and more using ingredients gathered from the game world.
Duel Other Wizards – Battle against players with the game's dueling system, either through proximity mode or through the seasonal Ranked League using a global matchmaking system.
Collect Equipment -- Players may collect and combine a variety of wands, headgear, tops, and more. Collecting full sets provide certain extra bonuses to attributes and support character builds. Apart from regular equipment, players can also gain armour illusions to create a rich, visual flair.
Planned features include the ability to craft items, seasonal Territory Wars between competing factions, enemy bosses, and player-to-player item trading. An art book featuring the magnificently illustrated lore of the Maguss world is set for release some time in March.
"We feel very proud to have come this far," says CEO Ondrej Tokar. "We can't even begin to thank the passionate fans who supported us at Indiegogo and stood by us for more than two years. I feel incredibly proud of the solid, active online community they've built. Their creativity and participation in the forums continue to inspire us."
For more information, visit the Maguss wiki page, http://forum.maguss.org/, or contact Mawa s.r.o at maguss.service(at)gmail(dot)com.