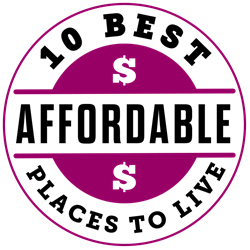 FRANKLIN, Tenn. (PRWEB) February 20, 2018
There are places where a person can buy a home for pocket change, and whole towns that cost less than a home in a city like Palo Alto. But if you ask the question "Would you want to live there?", the answer is likely "No."
With this in mind, Livability.com has named the 10 Best Affordable Places to Live for 2018. This list is comprised of affordable cities that also provide residents a high quality of life with robust entertainment options, income equality, strong job markets and lower-than-average housing prices.
Livability editors start with data. They examine cost of living and how that compares to national averages for key components of the budget like housing, transportation, food and utilities. They look for affordable places, but they also look for places with high incomes to make those cheap costs go even further.
"This year's list of the Best Affordable Places to Live isn't just fascinating, it's hopeful," says Winona Dimeo-Ediger, managing editor of Livability.com. "With housing prices and other day-to-day costs skyrocketing in so many places, these cities are proof that accessible, affordable and all-around wonderful places to live still exist. A great city can thrive without pricing out potential residents."
The 10 Best Affordable Place to Live, 2018
1. Lansing, MI
2. Buffalo, NY
3. Roanoke, VA
4. Morgantown, WV
5. La Crosse, WI
6. Savannah, GA
7. Ellensburg, WA
8. Knoxville, TN
9. Moscow, ID
10. Cincinnati, OH
For more information about the 10 Best Affordable Cities or to schedule an interview, please contact:
Winona Dimeo-Ediger, Livability.com Managing Editor at wdimeo-ediger@livability.com.
###
About Livability.com:
Livability.com explores what makes small to mid-sized cities great places to live, work and visit. We examine issues related to livability such as walkability, cultural amenities, transportation, urban planning and sustainability through exclusive research and discussions on our blog. We celebrate the accomplishments of these cities through our monthly top 10 lists, our annual ranking of the Top 100 Best Cities to Live, and daily articles exploring the who, what, why, and how behind the "where." Livability.com is a division of Journal Communications, Inc.