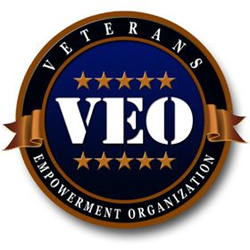 "We are excited to partner with VEO as our charity of choice for 2018," said Jason Moss, CEO of the Georgia Manufacturing Alliance. "They have had a tremendous impact on the lives of veterans and their families in the Atlanta community."
ATLANTA (PRWEB) February 20, 2018
The Georgia Manufacturing Alliance has chosen the Veterans Empowerment Organization (VEO) as their charity of choice for 2018. VEO provides housing and resources for veterans in transition and helps their residents complete their Self-Sufficiency Model. This program focuses on taking the "invisible veterans" off the streets and providing housing, treatment and recovery for addiction, medical care, mental health counseling, life-skills training and workforce development support. To learn more http://www.veohero.org.
"We are excited to partner with VEO as our charity of choice for 2018," said Jason Moss, CEO of the Georgia Manufacturing Alliance. "They have had a tremendous impact on the lives of veterans and their families in the Atlanta community."
More than 300 guests attended their The Third Annual VEO Gala on February 17, 2018 at The Piedmont Driving Club in Atlanta. The Atlanta community showed their support of veterans who are working hard to overcome the barriers they face to gain housing and employment. Guests were inspired by Tyler Bowser, who found himself homeless after returning from his service in the Airforce. Mr. Bowser successfully completed VEO's Self-Sufficiency program and is now an ambassador for VEO.
"VEO is privately funded so we can provide unconditional support for the underserved veterans in our community," said Mr. Bowser. "At our Gala, we were overwhelmed by the generous community support of VEO and the contributions from the Gary W. Rawlins Foundation. It was a stunningly, successful evening and we were able to raise over $200,000 which will go to provide transitional support for our veterans."
The Georgia Manufacturing Alliance is continuing their support of Veterans through a page on their website that will help Veterans connect with other resources that are available in our community. https://www.georgiamanufacturingalliance.com/veterans-resources-and-programs Their first Veterans Initiative's Lunch & Learn, held at VEO on May 9th, will present a panel of speakers that will share some of these resources and bring awareness to VEO's mission.
ABOUT GMA: The Georgia Manufacturing Alliance (GMA) is a membership-based industry organization founded in 2008 to support Georgia's manufacturing community. GMA provides monthly plant tours, educational sessions, tradeshows, and unique networking opportunities designed to help make profitable business connections for its members. The Georgia Manufacturing Directory, Georgia Manufacturing Summit, Georgia Manufacturing Calendar, and BuyFromGa website are additional resources produced by GMA. To learn more about the organization, membership, and upcoming events, please call 770-338-0051 or visit their website http://www.GeorgiaManufacturingAlliance.com.