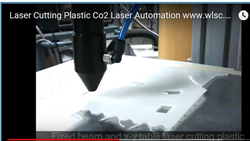 Our mission is to reduce manufacturing costs, protect products and consumers, and provide an eco-friendly manufacturing environment through the use of laser automation
GILBERT, Ariz. (PRWEB) February 22, 2018
Laser cutting plastic is an extremely important function for many industries including, automotive, aerospace, solar, cell phone, and aircraft manufacturing, along with packaging of consumer products. WLSC offers laser system automation for cutting plastic in several different configurations, including fixed beam, flying mirror, or galvo based beam method.
Using the fixed beam method, the beam is delivered via a tube with a focus optic at the end of the tube. Several factors related to the type of plastic, size of the parts, and cycle time might create the need for a fixed beam laser system, we can determine this in our applications lab by test cutting the products.
Next, is the Flying mirror where the laser beam is delivered via a 90 degree mirror turning the laser beam down toward a table. WLSC can provide automation for these systems to make a better fit with flexible manufacturing lines.
Finally, WLSC can provide a galvo based beam delivery systems. Galvo based laser systems have the fastest processing times and are generally the best option for industrial applications, as they allow laser operations without the need to move the parts or laser and can also function while parts are moving or on the fly.
Laser system automation is capable of providing laser integration with all three major types of beam deliveries. Using our experience, WLSC typically attempts to integrate with galvo based systems. However, we use fixed beam delivery systems where the application requires, and we provide automation for flying mirror systems where required for customer or end user applications, we look forward to hearing from you and testing your products in our applications lab.