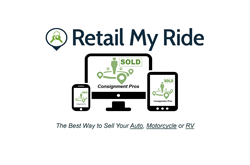 By using a Consignment Pro, private sellers get more money while eliminating the hassles and hazards associated with selling a vehicle themselves.
FORT WORTH, Texas (PRWEB) February 21, 2018
Toys With Tires LLC, an automotive solutions provider, announces the official launch of RetailMyRide.com, the first and only online platform 100% dedicated to helping private owners sell their auto, motorcycle, or RV using a licensed automotive consignment professional.
Each year, approximately 14 million used autos, motorcycles and RVs are sold in the United States by private sellers using vehicle listing websites, social media sites and mobile apps. While these tools may provide individuals with access to the retail market and an opportunity to get more money than dealer trade-in or wholesale cash offers, one fact remains – selling a vehicle privately is a hassle and safety hazard.
"We believe so strongly in the absolute benefits of automotive consignment that we created RetailMyRide.com. The new website is a branded e-platform designed to build awareness, educate private sellers, and promote the nationwide community of licensed automotive consignment professionals," said Josh Taylor, Retail My Ride co-founder.
RetailMyRide.com serves as a valuable new tool by matching private sellers with consignment professionals (Consignment Pros) that specialize in selling their type of vehicle. Consignment Pros generally handle all parts of the selling process from A to Z, so sellers get more money while eliminating the hassles and hazards associated with selling a vehicle privately. The Consignment Pros listed on RetailMyRide.com are a unique subgroup of the more than 100,000 licensed, bonded and insured independent motor vehicle dealers in the United States.
Private Sellers use RetailMyRide.com to learn more about the consignment selling option, find a Consignment Pro, enhance their overall selling experience, and pocket more cash.
Consignment Professionals use RetailMyRide.com to advertise their services, grow their business, and contribute as a member of a unique and growing profession that provides tremendous value to its customers.
Retail My Ride currently lists more than 1,200 consignment professionals by type located in 22 states and expects to have 50-state coverage during 2018. Consignment vehicle types include, late-model, classic, vintage, antique, custom, exotic, motorcycle, and RV.
To learn more about Retail My Ride, visit https://www.retailmyride.com/