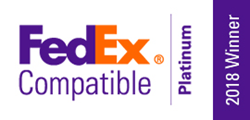 NORCROSS, Ga. (PRWEB) February 21, 2018
Lanham Associates' E-Ship shipping manifest solution, which enables distributors to plan and execute shipping from the time of order through shipping manifest, has achieved Platinum Tier Status for 2018 in the FedEx® Compatible program.
As part of the FedEx Compatible program, core FedEx functionality is built into E-Ship, enabling customers to evaluate shipping options and rating information for FedEx and other carriers from a single touch point – saving time, and eliminating the need for multiple shipping solutions.
E-Ship also provides a comprehensive yet simple shipping process for e-commerce. Since it is built directly inside Microsoft® Dynamics™ NAV, the solution enables the full benefits of E-Ship, NAV, and FedEx in one place, there's no need to switch back and forth between systems.
FedEx's designation of E-Ship as a Platinum Tier solution acknowledges the overall growth of E-Ship's customer base, its embracing of FedEx LTL Freight and international shipping, and its ability to meet rigorous FedEx certification testing requirements on an annual basis.
"We have been working with mid-market distributors and light manufacturers for years," said Dale Lanham, CEO, Lanham Associates. "We're honored to be recognized for a goal we strive for everyday -- helping our customers improve their supply chains, which, in turn, helps them grow their businesses with sound and efficient business processes, enabling further growth."
E-Ship is currently FedEx ready for Microsoft Dynamics NAV versions 5.0 through NAV 2018, and is expected to be released on Microsoft's anticipated D365 Tenerife product due out sometime this Spring.
About Lanham Associates®
With 2,200+ companies and more than 110,000 users worldwide depending on its supply chain solutions and services, Lanham prides itself in creating and implementing quality software that improves customers' business processes by streamlining operations, cutting costs and increasing overall productivity.
Specialists in NAV and distribution since 1997, Lanham's solutions provide business value to middle market distributors through proven supply chain solutions, often deployed in the cloud. Lanham's supply chain solutions are all built directly inside Microsoft Dynamics NAV software, which allows customers to manage their supply chains with seamless simplicity by keeping all of their data right at their fingertips in their own business systems.
Lanham holds the distinguished "CfMD" (Certified for Microsoft Dynamics) product certification on all of its supply chain solutions. Visit http://www.lanhamassoc.com for more information.