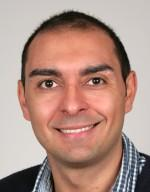 Atomic force microscopy has emerged in the last decades as one of the most powerful and versatile single molecule techniques because of the possibility to acquire three-dimensional morphology maps of specimens on a surface. The Park AFM is fundamental for my research on amyloids because of some extr
SANTA CLARA, Calif. (PRWEB) February 26, 2018
Park Systems, world leader in atomic force microscopy (AFM) is offering a free webinar on Mar. 8, 2018 titled Unraveling Amyloid Formation and Heterogeneity by AFM Single Molecule Statistical Analysis. The webinar will be led byresearcher Dr. Francesco Simone Ruggeri, a Junior Research Fellow at the Darwin College and Research Fellow at the Department of Chemistry & Center for Misfolding Diseases at the University of Cambridge.The webinar will present information on the biophysical characterization of proteins at the single molecule scale by means of atomic force microscopy based-techniques. Register here for the free webinar today.
Today, more than 40 million people worldwide are affected by dementia and neuro degenerative disorders. Onset of these and more than other fifty human diseases is associated at the molecular level with insoluble fibrillar protein aggregates, termed amyloids.
"The Park AFM is fundamental for my research on amyloids because of some extremely important features: i) it has a extremely low electrical noise in the order of 25 pm, which enable high-resolution measurements at the nanoscale. ii) the decoupled XY and Z scanner, which enables an easier post processing (flattening) of the image at this small scales, together with a consistence exclusion of the molecules during the 3-D AFM maps flattening. Iii) the versatility, the instrument interface and software are extremely easy to use and allow high throughput high-resolution measurements," explains Dr. Ruggeri. "Atomic force microscopy has emerged in the last decades as one of the most powerful and versatile single molecule techniques because of the possibility to acquire three-dimensional morphology maps of specimens on a surface. This capability has been widely used in the field of protein aggregation and amyloid fibrils formation."
Dr. Ruggeri explains in the webinar how a simple AFM map can provide extremely valuable information at the nanometer scale on the structure of amyloid fibrils, such as height, width, periodicity, flexibility and packing of single proto filaments inside mature fibrils. Furthermore, he shows that the possibility to analyze the morphology at several time points, during the process of amyloid aggregation, enables to shed light on the mechanisms of protein misfolding, on the pathway of fibrillization and the hierarchical polymorphic process of assembly.
"Differently from bulk techniques, single molecule techniques, such as atomic force microscopy, possess increased robustness in measuring the properties of heterogeneous populations by allowing direct measurements and correlation of the biophysical properties of protein aggregates at the nanoscale and single molecule level."
The understanding of the mechanisms of amyloids formation and polymorphism is of fundamental importance to gain biophysical insights into the potential toxicity of the intermediate aggregation species. The comprehension of these fundamental processes could allow the design of pharmacological approaches to contrast the onset of amyloid diseases.
This webinar series is offered by Park Systems as part of Nano Academy, a platform for providing education and shared knowledge on the latest nanotechnology advances.
About Park Systems
Park Systems is a world-leading manufacturer of atomic force microscopy (AFM) systems with a complete range of products for researchers and industry engineers in chemistry, materials, physics, life sciences, and semiconductor and data storage industries. Park's products are used by over a thousand of institutions and corporations worldwide. Park's AFM provides highest data accuracy at nanoscale resolution, superior productivity, and lowest operating cost thanks to its unique technology and innovative engineering. Park Systems, Inc. is headquartered in Santa Clara, California with its global manufacturing, and R&D headquarters in Korea. Park's products are sold and supported worldwide with regional headquarters in the US, Korea, Japan, and Singapore, and distribution partners throughout Europe, Asia, and America. Please visit http://www.parkafm.com or call 408-986-1110 for more information.
About Dr. Francesco Simone Ruggeri
Francesco Simone Ruggeri is a Junior Research fellow at the Darwin College and Research Fellow at the Department of Chemistry & Center for Misfolding disease at University of Cambridge. Both at Cambridge and previously at ÉcolePolytechniqueFédérale de Lausanne (EPFL), his research is focused on the biophysical characterization of proteins at the single molecule scale by means of Atomic Force Microscopy based techniques. This approach has brought new insights into the formation and structural characterization of misfolding of protein and its correlation with the onset of neurodegenerative disorders.