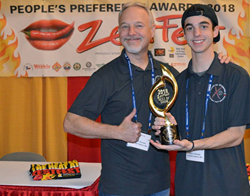 "This is our third time at Zest Fest," Elijah Morey, son and co-founder of Elijah's Xtreme Gourmet Sauces, said. "It seems like every time we come here we get a big taste of Texas hospitality and everyone enjoyed our big flavors. "Winning the Best of Show was a huge surprise
IRVING, TX - CHARLOTTE, NC, USA) (PRWEB) February 22, 2018
A coveted and prestigious award at Zest Fest "The People's Preference Award" was captured by surprise by a father son team form Charlotte North Carolina. It's always "Bigger in Texas" and Zest Festers who came out to sample and buy great spicy products vote on the best products that captures their imagination and taste buds in Irving, Texas. Deer Smear Grillin' glaze and marinade wholly created and handcrafted by the father and son team of Elijah's Xtreme gourmet sauces took home 4 awards including, Best of Show!
"This is our third time at Zest Fest," Elijah Morey, son and co-founder of Elijah's Xtreme Gourmet Sauces, said. "It seems like every time we come here we get a big taste of Texas hospitality and everyone enjoyed our big flavors. "Winning the Best of Show was a huge surprise, it's great that so many people are embracing our little company and love our passion to create unique and wonderful sauces," said Bret Morey, founder and father.
Spicy food lovers gathered in the Irving Convention Center for three days as 2018 Zest Fest featured more than 120 booths where Zest Festers sample various hot sauces, from mild to wild, BBQ and other spicy products offered by small craft sauce companies and large businesses alike. The event also included a celebrity chef stage where several chefs provided cooking demonstrations and several hot pepper eating contests that turned up the heat for the crowd.
"Deer Smear", has now won 6 awards, including 2 from the International Flavor Awards in the fall of 2017. Elijah's Xtreme Gourmet Sauces, launched its 4th and newest product, a pineapple-mango, spicy, grilling glaze and marinade; Deer Smear in all Bass Pro Shops and on Amazon as of November 2017. Obviously created for venison, people are raving about its use on many other meats, and tasty as a snack on cream cheese. Much to their surprise and interestingly vegans have also embraced this innovative new product, as big flavors are hot and growing for family's, friends and foodies.
Web: ElijahsXtreme.com for more information on our award-winning products.
Contact: bret(at)elijahsxtreme(dot)com or 704-839-6195 for release photo and more information.
For more information on the Fiery Food Challenge and ZestFest, visit http://www.zestfest.net or contact June DeRousse at june(at)zestfest(dot)net or 210-882-0952