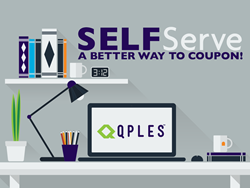 We wanted a completely transparent solution without the smoke and mirrors, upcharges or prohibitive set-up fees and minimum orders that can put DFSI coupons out of reach for mid-tier, small or emerging brands,"
FORT WORTH, Texas (PRWEB) February 21, 2018
Qples, today announced the release of a new, self-serve coupon engine that allows manufacturers to launch and manage their DSFI campaigns on their own, and they can do it for FREE.
Qples already disrupted the industry pricing model by becoming the first to offer subscription pricing for hosted offers, saving manufacturers the setup and per-print fees.  Now, Qples is doing it, again.  Qples' new, self-serve Qpon Engine gives manufacturers complete control of their own DFSI campaigns.  This self-serve model revolutionizes how manufacturers manage their offers, as well as, saves them time and money.
In an industry of managed service, why did Qples decide that a self-serve model was the best? "We are used to doing our own shopping and discovering the best solution for our needs whether sitting at our desk or surfing at home. Qples wanted to provide that same capability to brands for their coupon needs," says Brandi Johnson, CEO. "We wanted a completely transparent solution without the smoke and mirrors, upcharges or prohibitive set-up fees and minimum orders that can put DFSI coupons out of reach for mid-tier, small or emerging brands," said Johnson. With the new self-serve tool brands can sign up, build their offer and launch it to the Qples' network completely on their own.
Many may ask how Qples can offer DFSI campaigns FREE to manufacturers. Simple, Qples is flipping the standard model on its head and utilizing a non-industry practice more akin to the YouTube model that people are familiar with- free distribution by monetizing advertisers. Qples is also hoping that DFSI clients' experience with the simple to use Qpon Engine portal will drive a decision to utilize it for their "hosted" coupon campaigns in a subscription. "Once our brand clients discover the ease and freedom of building and managing their own coupon campaigns they never want to go back to the tired old methods of proofs and extra charges," said Johnson.
The Qples self-serve engine gives manufacturers the power to unlock data never before available from DFSI coupons, manage budgets, and ultimately, create more effective campaigns that engage customers without the need for interference from an account representative or a sales person.  Qples is the industry's ONLY coupon technology company. Now, its new self-serve Qpon Engine is pioneering yet another new way to help manufacturers reach shoppers and continue to foster loyalty in a cost-effective way.
About Qples:
Qples, started in 2012, is a next generation technology provider for manufacturer coupons. Qples is the only SaaS coupon provider in the industry, providing brands with a simple to navigate coupon management platform for hosted or network DFSI coupons. Qples campaigns provide users unique consumer data never before available from coupon promotions. http://www.qples.com