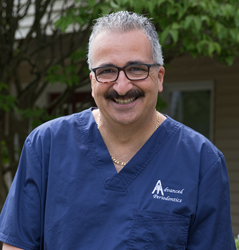 MONROE, Conn. (PRWEB) February 23, 2018
As a tribute to American Heart Month, award-winning periodontist Dr. Richard Amato urges people to be checked for periodontal disease in Monroe, CT, Fairfield and New Haven County to improve their overall health. Untreated periodontal disease, also called gum disease, has been linked with many other conditions, including heart disease, but can be managed with regular periodontal appointments.
Periodontal disease is a chronic condition comprised of three stages. The first stage, gingivitis, is marked by milder symptoms such as bad breath and swollen or bleeding gums. If diagnosed during the gingivitis phase, periodontal disease can often be cured.
The second and third periodontal disease stages, moderate and advanced periodontitis, occur after growing bacteria in the periodontal pockets have begun to destroy healthy gums and bone. Left untreated, periodontitis leads to the loose teeth and bone loss. It can also foster worsening heart-related conditions.
Studies have revealed a link between periodontal disease and heart disease. While the true nature of their relationship is not completely known, scientists surmise that bacteria from the mouth spreads through the bloodstream. This bacteria and inflammation forces the heart to work harder, leading to instances of stroke and heart attack. In fact, some reports suggest that having periodontal disease almost doubles a patient's chances of developing heart disease.
To reduce risk factors for his patients with gum disease in Monroe, CT, and the whole Fairfield County area, Dr. Amato prefers LANAP® laser gum surgery when appropriate. LANAP uses gentle, pulsed lasers to remove diseased gum tissue without affecting healthy tissues. The laser is more comfortable for most patients and leads to faster healing and progress.
Those with periodontal disease in Monroe, CT and surrounding areas of Ansonia and Derby, CT can schedule a consultation with Dr. Amato by calling 203-712-0917 or visiting http://www.connecticutperiodontist.com.
About the Doctor
Dr. Richard Amato is a leading periodontist and dental implant specialist who provides personalized dental care using the most advanced technology for patients at Advanced Periodontics and Dental Implant Center of Connecticut LLC in Monroe, Connecticut. He has placed thousands of dental implants since 1989. Dr. Amato earned a DDS degree from Stony Brook University. He then completed a full-time multi-year specialty residency and received his Certificate of Proficiency in Periodontics from Eastman Dental Center at the University of Rochester. He belongs to the one percent of dentists in the USA currently providing the first FDA-cleared laser procedure for gum disease treatment. Dr. Amato is the first and most experienced provider of LANAP® therapy in Fairfield County, Connecticut as well as the first Periodontist to provide the Pinhole® Surgical technique in CT. To learn more about Dr. Amato and his dental services, visit his website at http://www.connecticutperiodontist.com and call 203-712-0917.