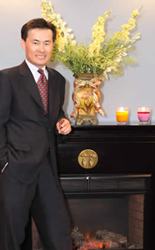 POMONA, Calif. (PRWEB) February 23, 2018
Leading periodontist, Dr. Jin Kim, welcomes new patients from Pomona, CA, with receding gums for the Chao Pinhole® Surgical Technique (PST™), with or without a referral. PST is a minimally invasive procedure performed to repair gum recession, improving the oral health and smile esthetics of patients suffering from gum tissue loss due to gum disease or other factors. As a board-certified periodontist, Dr. Kim is highly skilled in all phases of periodontology. He is a respected national and international speaker, with research published in numerous prestigious scientific journals. Committed to providing the latest in advanced techniques, he invites those with receding gums in Pomona, CA, to visit his Diamond Bar, CA, or Garden Grove, CA, specialty practice locations for a treatment consultation.
An alternative to traditional gum grafting techniques, PST has changed the process of repairing receding gums for many patients. The minimally invasive procedure is performed through a small, pinhole-sized opening created in the gums, near the area of recession. Tissues are gently loosened and repositioned to a healthier level on the teeth, and held in place with small strips of collagen material. Many patients favor PST over traditional gum grafting, as the technique does not require incisions, sutures or a lengthy recovery period.
Dedicated to delivering the latest in cutting-edge periodontics, Dr. Kim offers PST to his patients for the immediate cosmetic results and other benefits it affords. He performs PST and other advanced treatments at his practices in Diamond Bar, CA, and Garden Grove, CA, and extends this services to those suffering from the effects of receding gums in Pomona, CA. Dr. Kim has extensive experience in gum recession treatment, among other advanced periodontal procedures, and shares his knowledge and expertise with students, colleagues and other dental professionals around the world as a highly sought-after lecturer. As a board-certified periodontist, Dr. Kim has advanced expertise and experience in all phases of periodontal care.
Patients with receding gums in Pomona, CA, or those interested in consulting a board-certified periodontist who performs PST, are encouraged to call the Diamond Bar location at 909-860-9222 or the West Garden Grove location 714-898-8757 for a consultation with Dr. Kim, or visit http://www.drjinkim.com to learn more about his services.
About the Doctor
Dr. Jin Y. Kim is a periodontist dedicated to providing personalized dental care in Diamond Bar and Garden Grove, CA. Dr. Kim attended the University of Sydney Faculty of Dentistry before furthering his education with an advanced degree in pathology from the Medical School of the same University. Dr. Kim completed a periodontics and implant surgery residency at UCLA School of Dentistry and is board-certified by the American Board of Periodontology and the American Board of Oral Implantology/Implant Dentistry. He is a past president of the Western Society of Periodontology and was also inducted to be a Fellow of the prestigious American College of Dentists and earned Fellowships in the International Congress of Oral Implantologists and the American Academy of Implant Dentistry. Dr. Kim lectures and holds faculty positions at a number of universities including UCLA School of Dentistry and abroad. He has spoken at no less than 36 different countries across the globe as well as national and international academic and clinical associations and universities including the International Association of Dental Research, American Academy of Periodontology and Academy of Osseointegration. To learn more about Dr. Jin Kim and the services he offers, visit his website at http://www.drjinkim.com or call 909-860-9222 for the Diamond Bar location or 714-898-8757 for the West Garden Grove location to schedule an appointment.