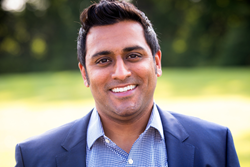 WORTHINGTON, Ohio (PRWEB) February 23, 2018
Drs. Rajan Sheth and Diana Park open a third practice location in Worthington, OH called Linworth Smile Center. Patients seeking an experienced dentist in Worthington, OH, will now benefit from this team's advanced experience and technology including a cone beam CT (CBCT) machine when receiving procedures like dental implants and All-on-4® full arch replacement. Located at 2245 W. Dublin Granville Rd., Suite #106 in Worthington, OH, patients can experience the quality and dedication offered at their other two practices, Delaware Smile Center in Delaware, OH and Smile Center Ohio located in Powell, OH.
Linworth Smile Center offers exceptional services patients have come to expect from Drs. Sheth and Park. Those seeking dental implants can replace single and multiple missing teeth as well as full arches of teeth with the All-on-4 procedure. The practice is also experienced in the treatment of gum disease with effective preventative techniques like scaling and root planing as well as routine maintenance for periodontitis. Patients can also receive cosmetic services such as teeth whitening and smile makeovers to enhance the appearance of their smiles.
Drs. Sheth and Park have also implemented the state-of-the-art technology they are known for into the new Linworth Smile Center. Patients in need of dental implants will get 3D imaging of their jaw from a CBCT machine to assist in accurate placement of implants. The practice also offers minimally invasive impressions with an intraoral scanner and advanced sedation dentistry to relax patients who feel anxious or fearful. "We have invested in absolutely state-of-the-art technology," says Dr. Sheth. "These things that we have really allow us to exceed that quality of care."
Linworth Smile Center is the third practice opened by Drs. Sheth and Park in order to better serve Ohio residents with quality dental care. Those looking for a skilled dentist in Worthington, OH, can schedule an appointment with the team at Linworth Smile Center by calling 614-350-7446 or by visiting the website at http://www.smilecenterohio.com.
About the Doctors
Dr. Rajan Sheth and Dr. Diana Park offer modern dental care to patients at their three practice locations: Delaware Smile Center in Delaware, OH, Smile Center Ohio in Powell, OH and Linworth Smile Center in Worthington, OH. Dr. Sheth and Dr. Park both graduated from Ohio State University. Dr. Sheth received additional training in pediatric special needs and the adult population with complex medical histories and is certified to offer IV sedation to help patients feel comfortable during their treatment. He and Dr. Park are dedicated to the latest techniques and technology and dedicate more than the minimum number of hours to continuing education courses. This advanced team offers a range of services from dental implants, sleep apnea treatment and orthodontics to complete smile makeovers. With a philosophy of treating their patients as their own family, this team is committed to leading, comfortable care. To learn more about Drs. Sheth and Park or the services they offer visit http://www.smilecenterohio.com or schedule a comprehensive consultation by calling 740-417-9565 for the Delaware, OH location, 614-877-8080 for the Powell, OH practice or 614-350-7446 for the Worthington, OH office.