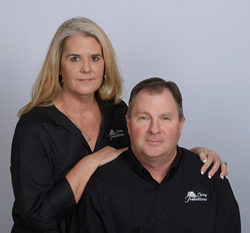 Sometimes you need a third party like Caring Transitions to come in, take that stress off your shoulders and handle all the details so you can focus on your family and your next steps. - Jodie Anderson
Greenville, TX (PRWEB) February 20, 2018
Jodie and Sandra Anderson of Greenville are pleased to announce the launch of their new full-service transition company, Caring Transitions of Nor-Tex.
Caring Transitions' specially-trained team can handle organizing, packing, de-cluttering, moving, resettling, in-person and online estate sales, liquidations, and preparing homes for market. Caring Transitions specializes in managing senior relocations, but the services are also perfect for busy families and individuals in need of assistance.
Caring Transitions of Nor-Tex serves Greenville, Paris, Sherman, Royse City, Bonham, Sulphur Springs and the surrounding Texas communities.
Jodie and Sandra, husband and wife, have been in the auction and estate sale business for years. Sandra has also been working as the office manager for a trash and sanitation company and Jodie has a background in insurance. They started thinking about transforming their auction and estate sale business into a full-service Caring Transitions company when they went to an estate sale presented by a neighboring Caring Transitions franchise.
"In the auction and estate sale business, we often see the gaps in the transition process. You might know what you want to sell, but what do you do with everything else? And who is going to do that physical work? And what do you do when you need to move to a smaller place? What are the steps? What can you take with you? Will it feel like home? Even people with families who can help struggle through these challenging transitions sometimes," Jodie said. "When we found out about Caring Transitions – and we realized they were designed to fill those gaps and be a full-service solution – it clicked for us. We decided we could better serve the community by opening our own Caring Transitions."
Caring Transitions' services are perfect for seniors moving in with family or into a safer living situation as well as busy families and people clearing out the home of a loved one who has passed. All of Caring Transitions' services are customizable, so clients only pay for the services they need – whether that means managing the entire move and estate-clearing or just getting someone resettled into their new place.
Jodie said sometimes working with Caring Transitions is less about the physical work than the emotional management. Sometimes seniors and families just need someone to turn to during challenging times.
"When I was working in the insurance industry, I saw how these kinds of transitions could create a lot of friction within families. Sometimes you need a third party like Caring Transitions to come in, take that stress off your shoulders and handle all the details so you can focus on your family and your next steps," Jodie said.
Caring Transitions of Nor-Tex is bonded, insured and their W2 employees have been background checked. For additional information, call (903)303-2121, email JAnderson(at)CaringTransitions(dot)com or visit http://www.CaringTransitionsNorTex.com.
About Caring Transitions
Caring Transitions, founded in 2006, is the first national franchising concept specializing in senior relocation and transition services. With more than 200 locations throughout the United States all owned and operated by Certified Relocation and Transition Specialists, Caring Transitions provides clients with supportive moves, auctions, rightsizing and transitions. This includes expert advice plus a well-executed transition plan beginning with the initial sorting of personal belongings through packing, shipping and selling of items to the final clearing and cleaning of the property. For more information, visit http://www.caringtransitions.com or visit us on Facebook.