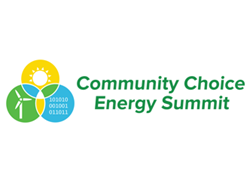 SAN DIEGO (PRWEB) February 21, 2018
Infocast, the leading business intelligence and networking events producer in the renewable energy industry is excited to announce the upcoming Community Choice Energy Summit: Southern CA Edition, taking place April 24 – 26, 2018 in San Diego, CA.
The CCA movement continues to build, generating tremendous excitement and controversy. With dozens of LA County, beach, inland and desert cities at varying stages along the "CCA On-Ramp", a vast amount of load is set to change hands which could potentially impact the entire West Coast Energy Market.
After a sold-out November 2017 gathering, the 2018 Southern CA Edition will delve deeper into renewable power planning, procurement and financial strategies, initiatives for developing local energy resources and projects and more. The Summit will gather operational and formative CCAs, thought leaders, renewables developers, energy marketers, utilities, regulators and municipalities.
Featured companies include: Center for Climate Protection, City of Encinitas, City of Sierra Madre, City of San Jose, CVAG, Desert Community Energy, East Bay Community Energy, Lancaster Choice Energy, Marin Clean Energy, Monterey Bay Community Power, Peninsula Clean Energy, Southern California Edison, Silicon Valley Clean Energy and much moer.
For more information, to register or to join as a sponsor, visit the event website at http://infocastinc.com/event/community-choice-energy or contact Infocast at 818-888-4444.
About Infocast
For over 30 years, Infocast has produced the highest quality events, tailored to the needs of the industries we serve. We intensively research the marketplace, pulling from an extensive network of experts to give you the information and connections to succeed.